Dark Canyon Wilderness stretches expansively. It drops you deep. Twisting and turning, the canyons peel away layers of human hecticness. They open and reveal that primal place where a single note resounds like a symphony.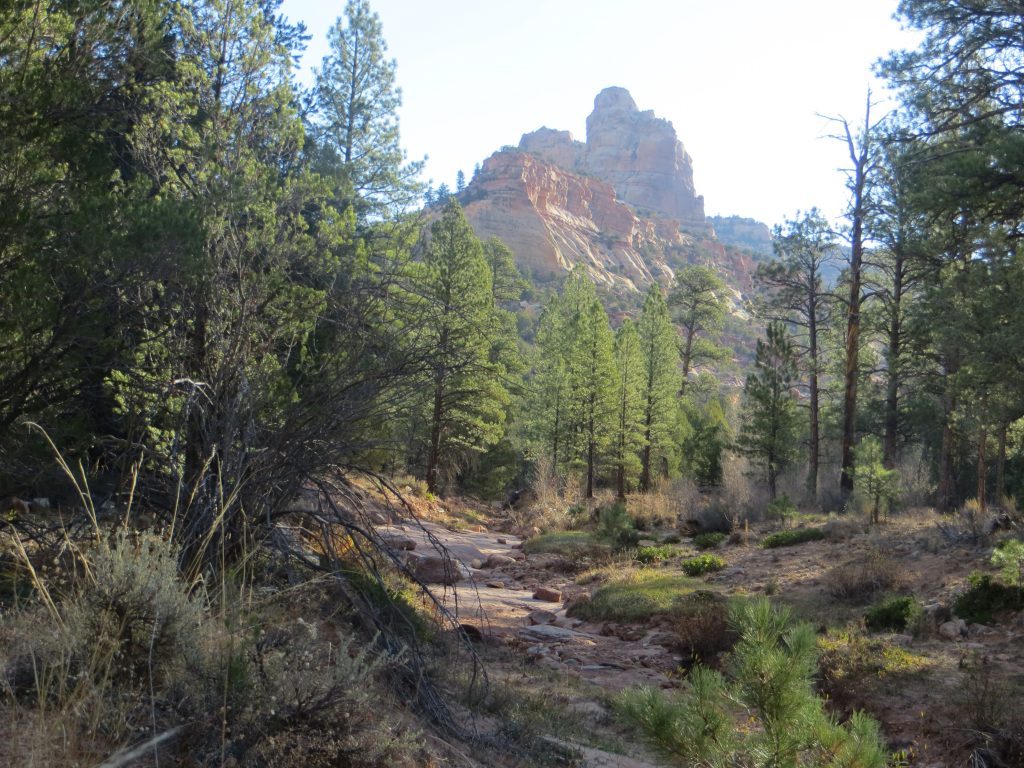 Moving through space, this is a journey in time. Descending from the mesa tops, footsteps touch rock shelves holding memories of their ages. From high on Cedar Mesa sandstone down to layered limestone of the canyon floor, colors of compacted grains of sand or frenetic forms of frozen corral beds speak to me in different tongues.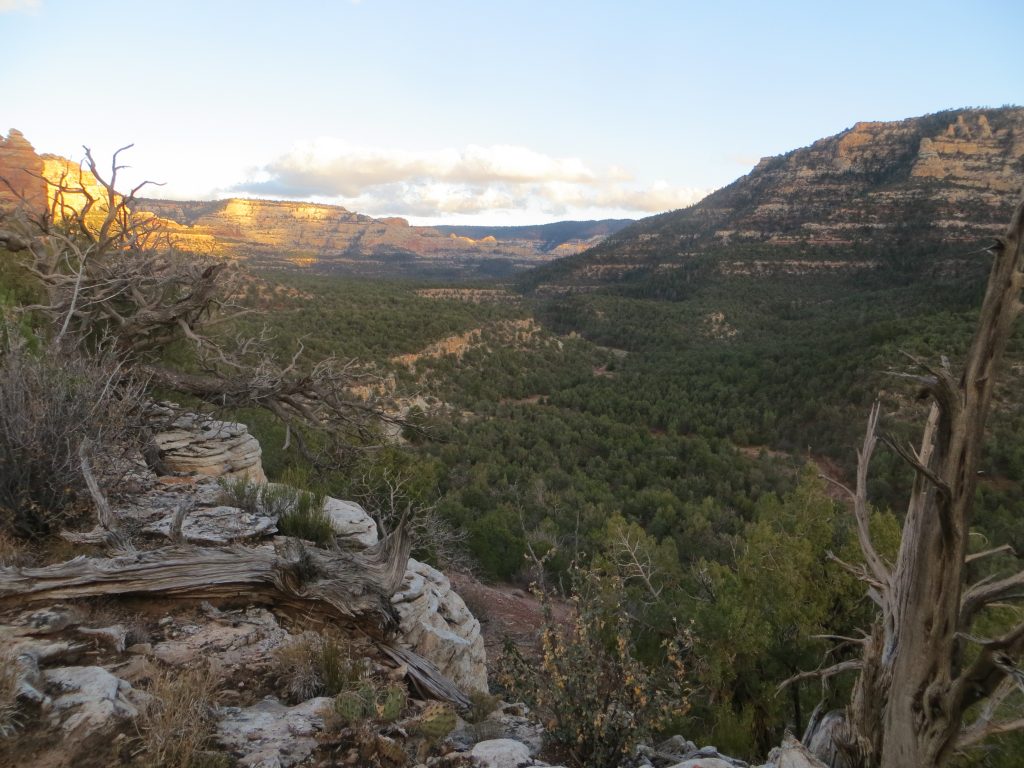 Remote and seldom visited by people, this canyon wilderness offers close company to me. It is alive with other creatures. Tracks criss-cross the sandy trail; big hoof prints, tiny paw prints, delicate claws. I smell a deep musky animal scent among the aromatic sage. In the quiet, a distant rockfall booms, perhaps bighorn sheep on the cliff walls. Later I hear a gentle shudder of hoofs pushing off from the ground – a few deer pronging across the landscape.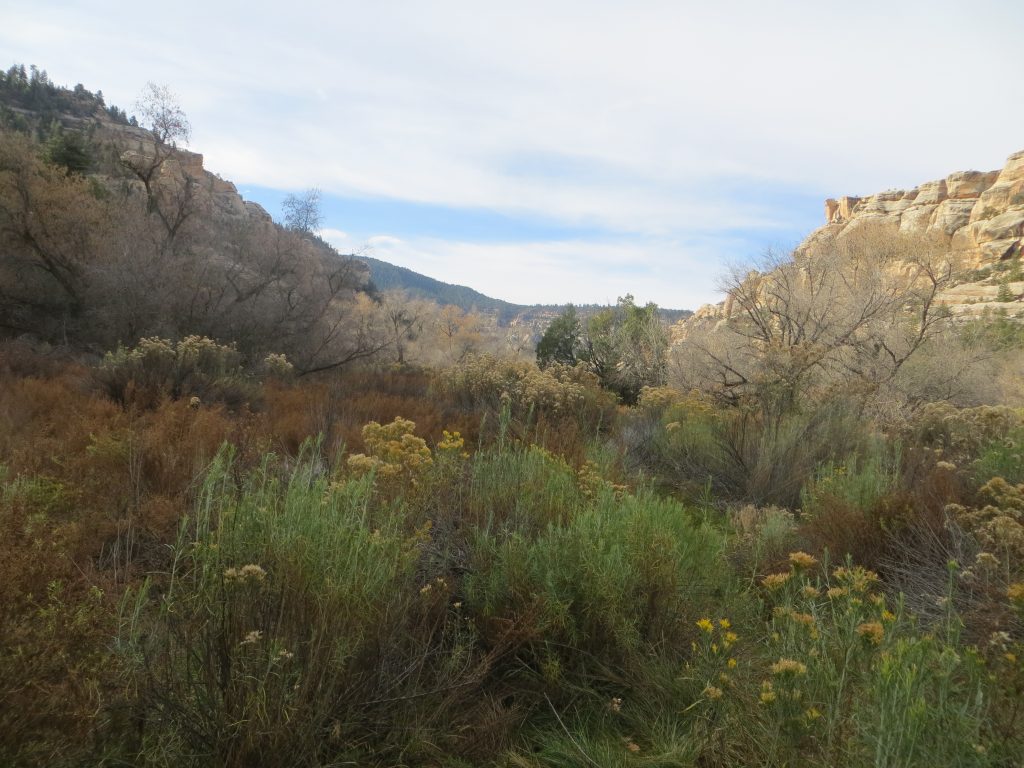 Home to the animals, it is still a different environment to me. I seek water and shelter along my walk. And in this desert, any certainty I have about the presence of water is its uncertainty. In upper Woodenshoe Canyon, a wide sand and cobble creek bed flows dry, though intermittent thickets of willow, reed and grasses tell of water just below. Further downcanyon, in the layered shale and limestone bedding, small still pools appear. Though seemingly dry, the desert rock can be a reservoir for water. I watch the cliff walls carefully until a string of verdant green leaves and dark streaks speak of a flowing seep. I share it with a tiny brown and red spotty frog. Drips from ledges and mosses trickle into my collecting vessels placed below.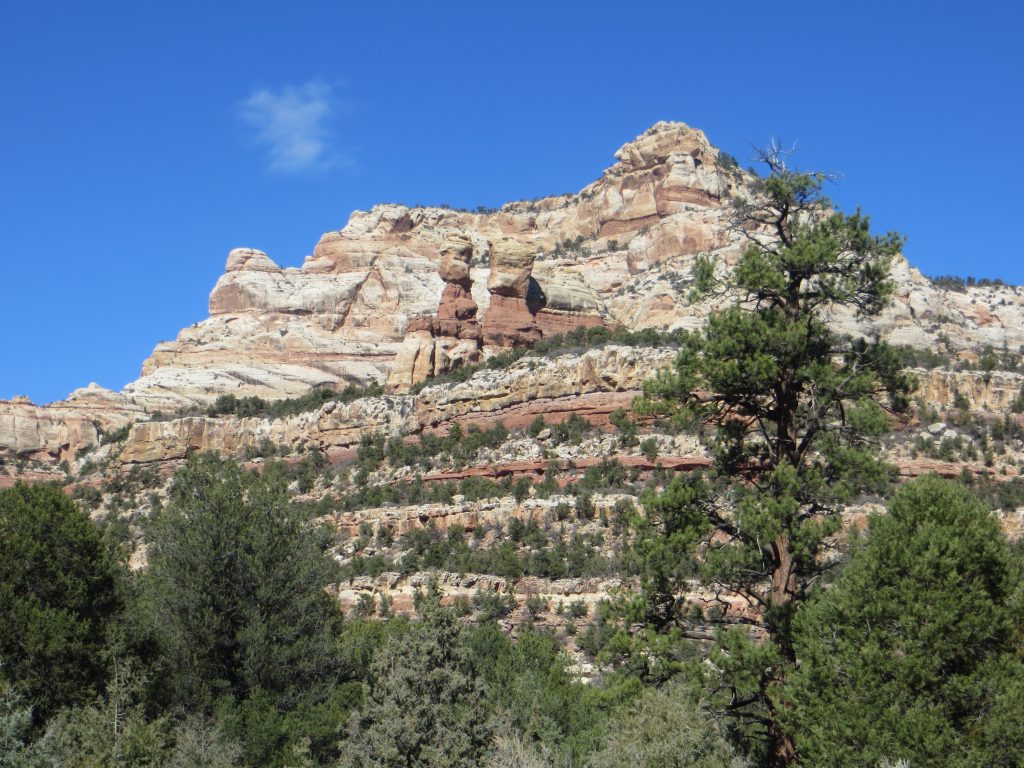 Making camp is a ritual of place finding and place making. The first night, a mounded cedar mesa sandstone formation beckons. With rolling rocks flat enough to perch on, it offers broad vistas to the ridges and mesas of my canyon home. I choose a sandy bed next to a protective warm rock face below, and run up and down the rock to welcome first the stars and then the morning light, watching colors change in the sky.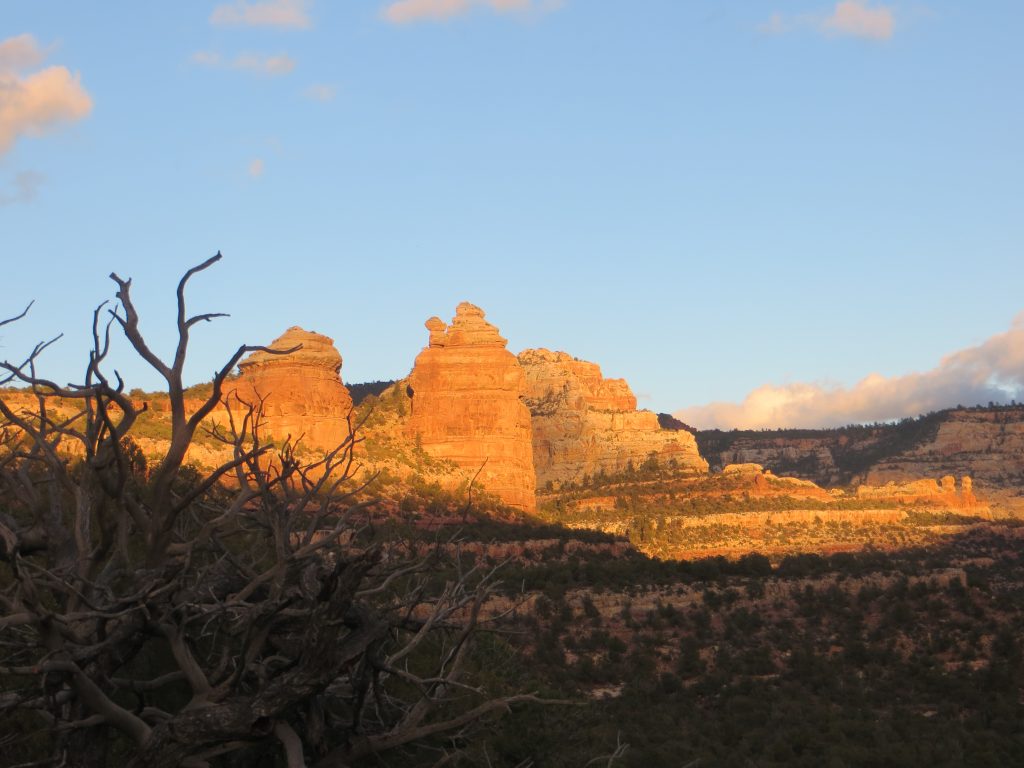 My second night, I camp at the confluence in a stand of Juniper where others have stayed before. As my fire turns to embers, I feel the first wet drops of the night. Not long after, rain is pounding down on my tent, the sky alive with loud thunder and vivid lightening. I think it rains all night. When I climb out my tent by first light there is no longer water falling from the sky, but it glistens brightly on the spiny needles, shiny rocks and mud red earth around me.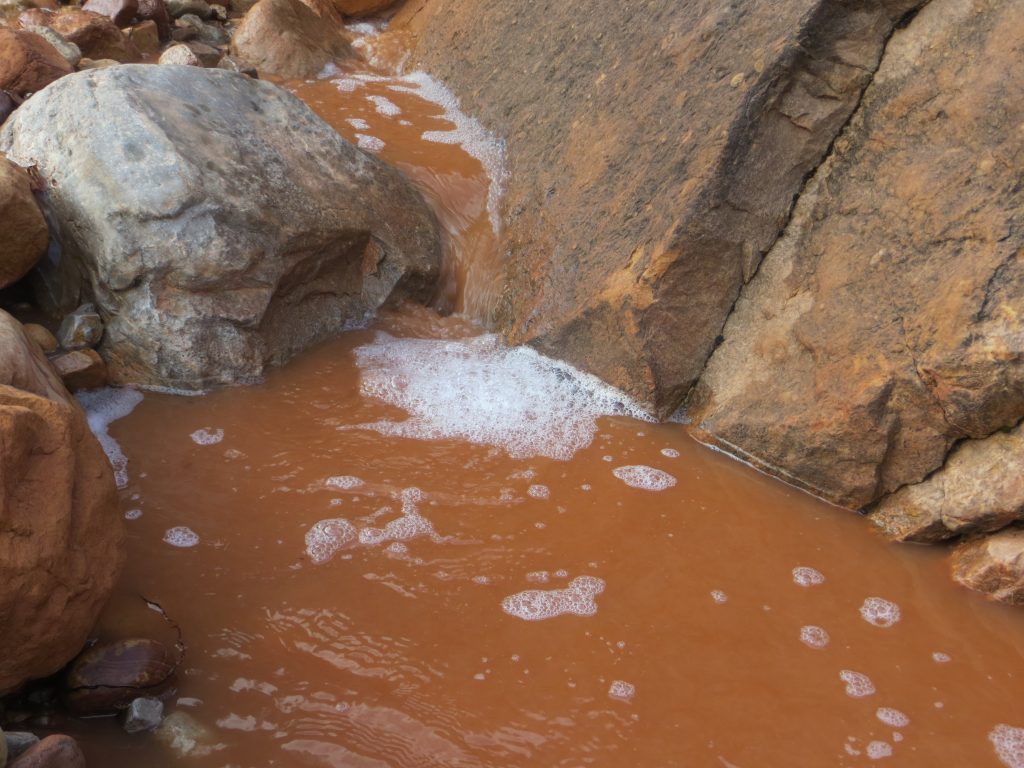 I wander out and up. As I climb higher, the sound of gurgling, trickling, running water seems to surround me. I search for the source and see the once dry river bed alive with flowing red liquid. I witness the miracle of water in the desert.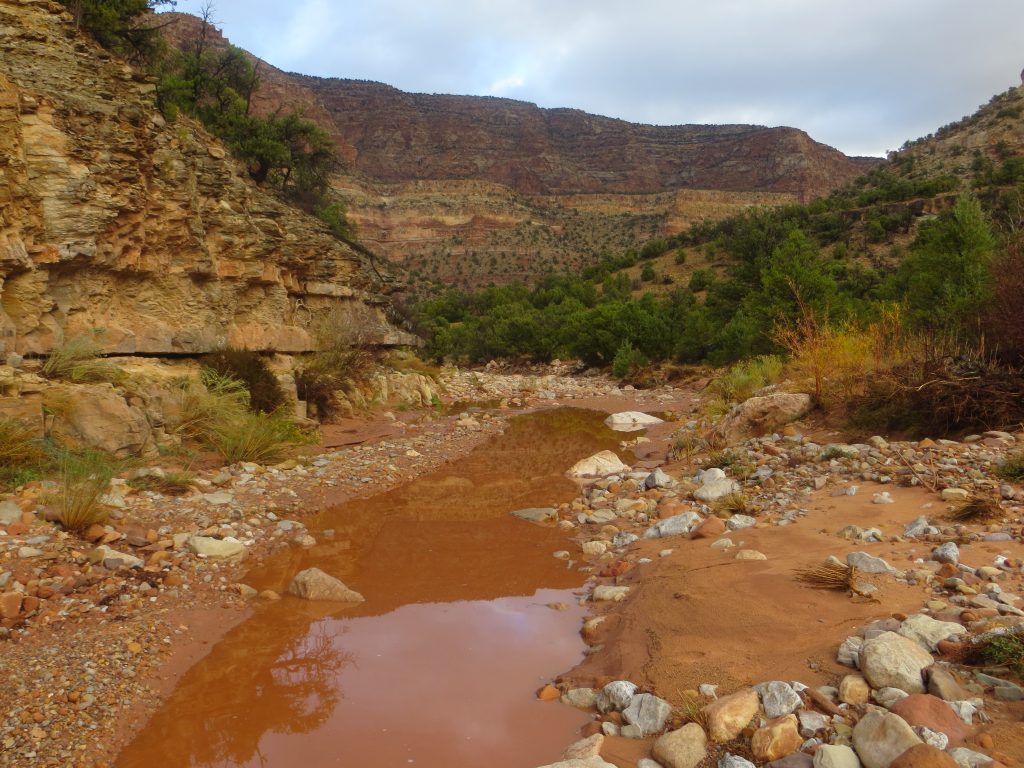 I linger to allow my tent to dry and engage in the changes in life on this land. And then I resume my journey. For the moment, the landscape of large ponderosa pines with their red brown striated bark, bushy green needles and big beautiful presence is above me. My landscape is that of juniper and pinyon flats, to me remniscent of the African savannah with its low acacia trees. The yellow-white puffy blooms of rabbitbrush and sagebrush taller than my head, illuminate the deep green leafed, brown-earthed landscape.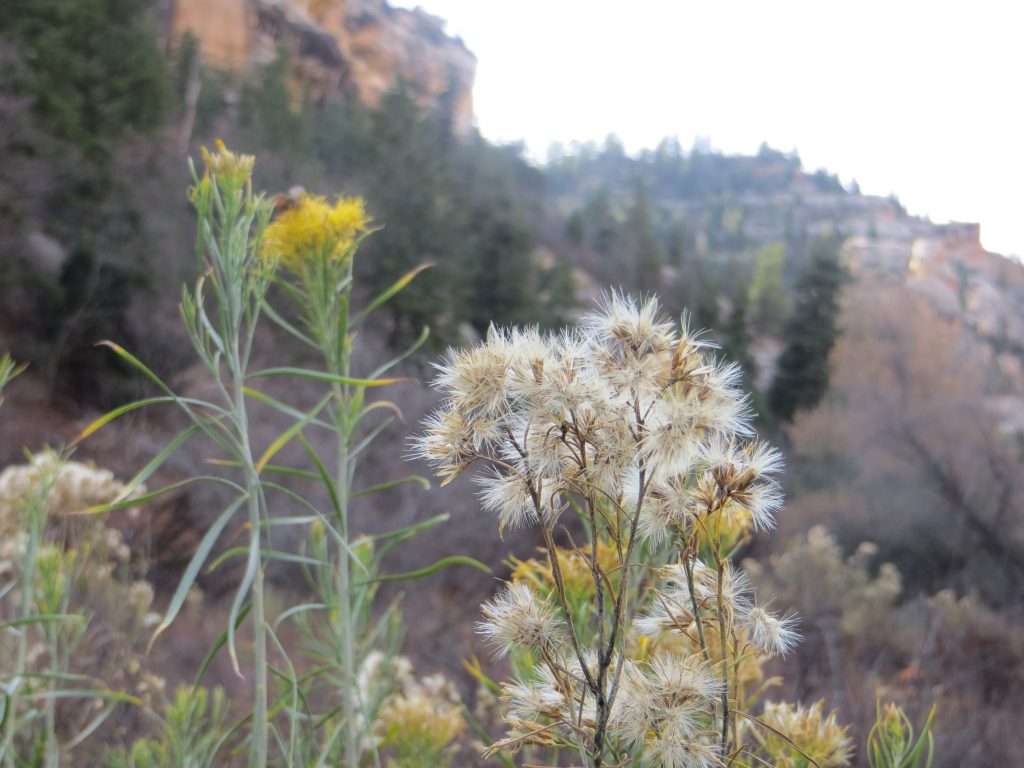 At first in Dark Canyon, my landscape was bordered by bold red topped mesas with slopes clad in evergreen. As I move upcanyon, the more arid landscape emerges in raw forms of rock castles, bold buttresses, slender spires, towers, arches, and alcoves. They are not only myriads of forms, but rainbows of colors including purple, maroon, crimson, orange, cream, ochre, yellow, buff and peach. The rock landscape is undulating and punctuated. I see exclamation points, deep holes of periods, and laughing commas in the landscape.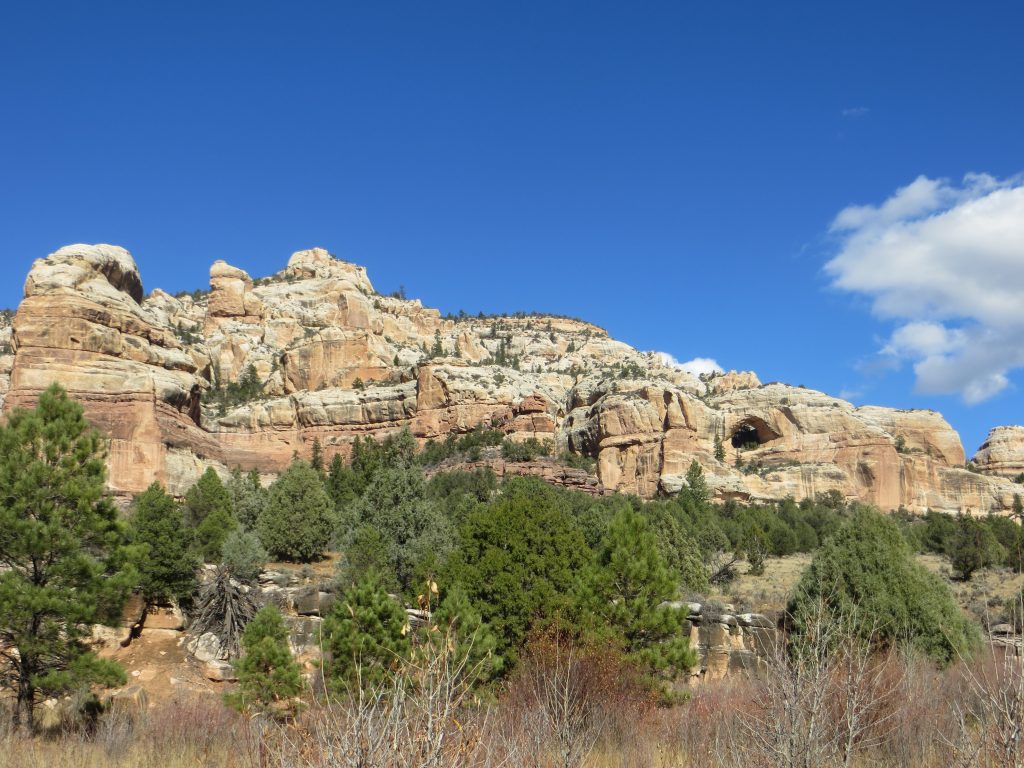 I am becoming more at one with my surrounds. I feel leaves fluttering as they cling and let go of their branch hold, dancing to the canyon floor, playing with the wind. They crackle as I step on them. I pick up a faded yellow-brown sprig and tuck it into my pack straps, I want to be part of this leafy place too. A bird nonchalantly flies by and settles on a small tree just in front of me. At night, red bunny eyes look at me curiously in the dark, as I at him.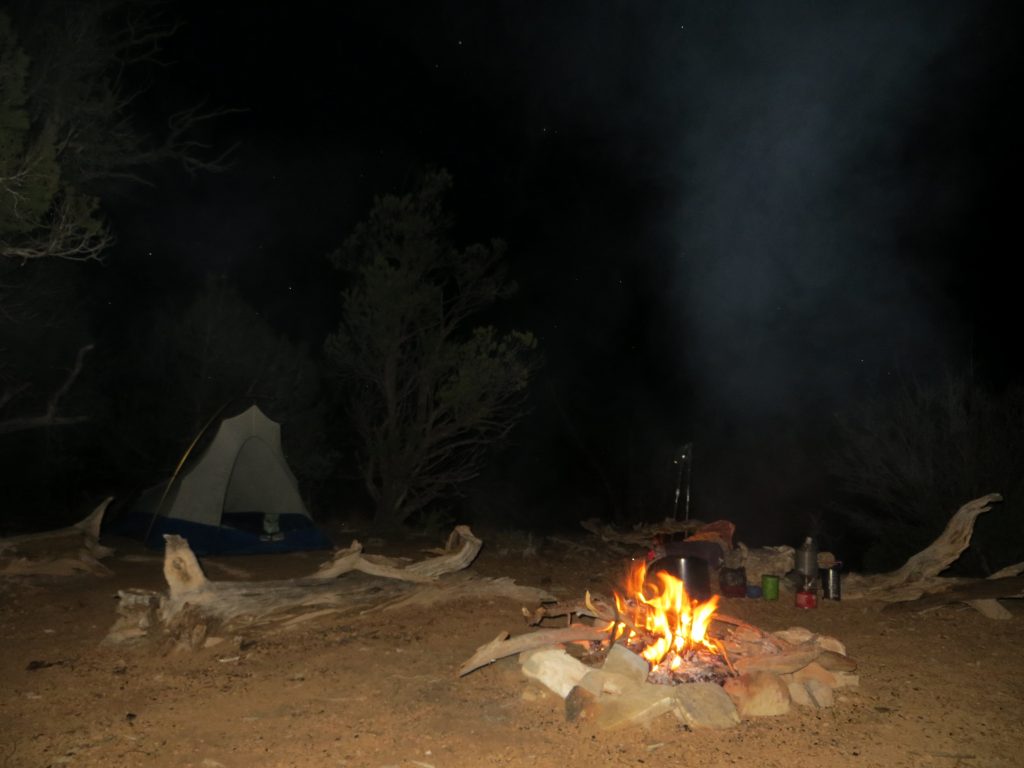 It's the season of falling leaves when days and nights are equal. Aware that the earth wears shades of gray, I thrill as my body's senses engage anew. This shimmering sky of wonder is like a fireworks display suspended in time, and a path to see beyond. Stars cycling describe earth turning. I see lit cliffs from a rising moon and dark hillsides in its shadow. And somehow, where edge of earth meets sky, it always seems a little brighter. Animals greet night too, for some it's time to go out. Coyote calls as the first star twinkles in the just dark enough sky. Later deep in the night there are more howls and calls, and I think I hear a delicate elk cry.
A shooting star on an impossible mission blazes by, and then another and another light the sky. One comes so close I hear the whoosh. Where are they going so quickly? And how many more fly silently by, unseen?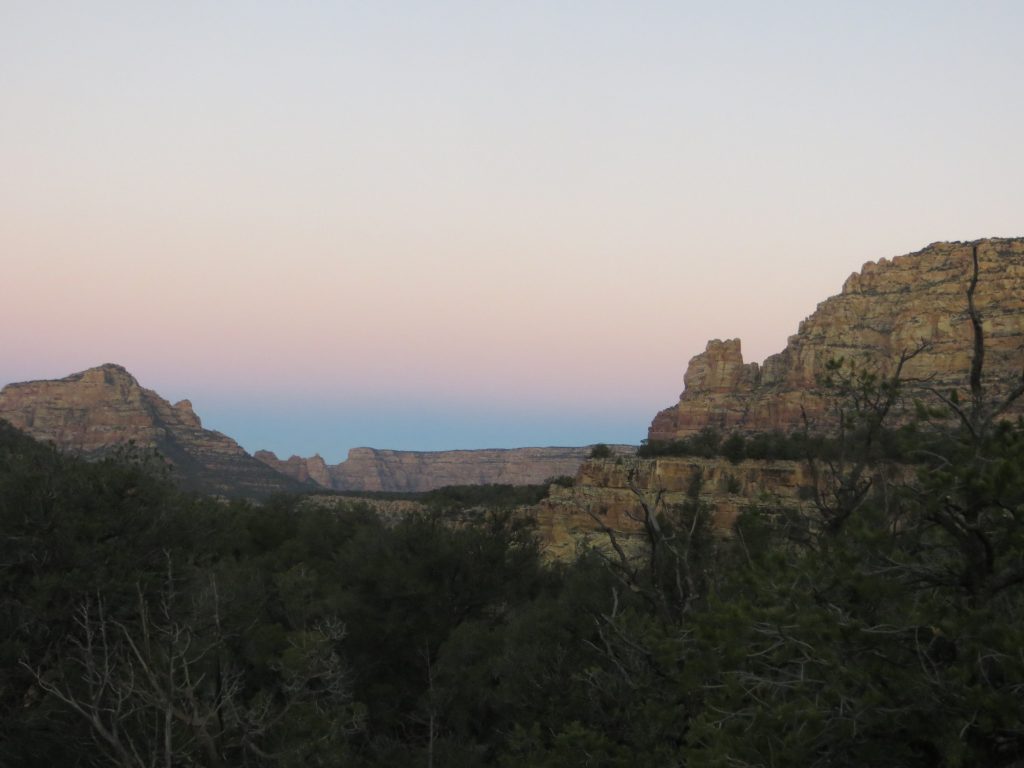 An owl hoots just before the morning light. And the sun rises to birdsong. I read changing light magic on the mesas.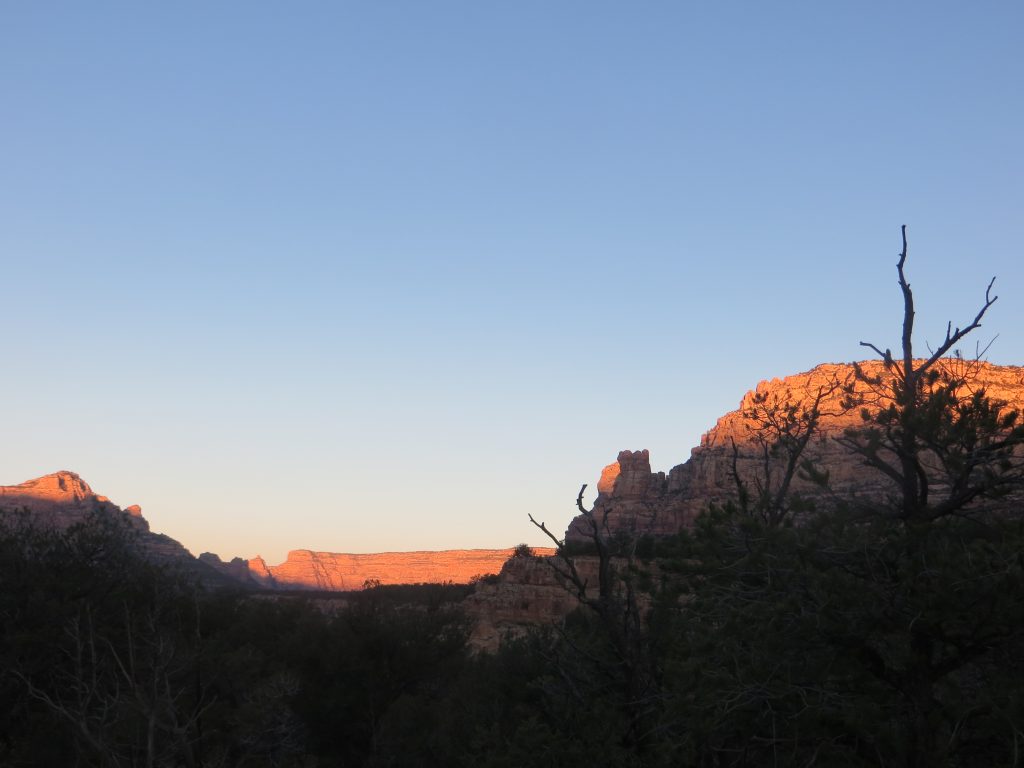 Water is a gift. Camping close to a quiet spring, I feel at home with the birds, crickets and frogs who also choose this place. The water is clear and cool nestled against a stepped limestone edge on one side and waving willows on the other. It feels good to rest in the present moment.
With pack on back, I'm on the move again. As I approach the intersection of Dark and Peavine canyons, a sturdy arch catches my eye. Beyond, more exotic forms sculpted in red-colored rock lure me to continue further up Dark Canyon. While the trail was a double track here, filled with water from recent rains it appeared as a creek.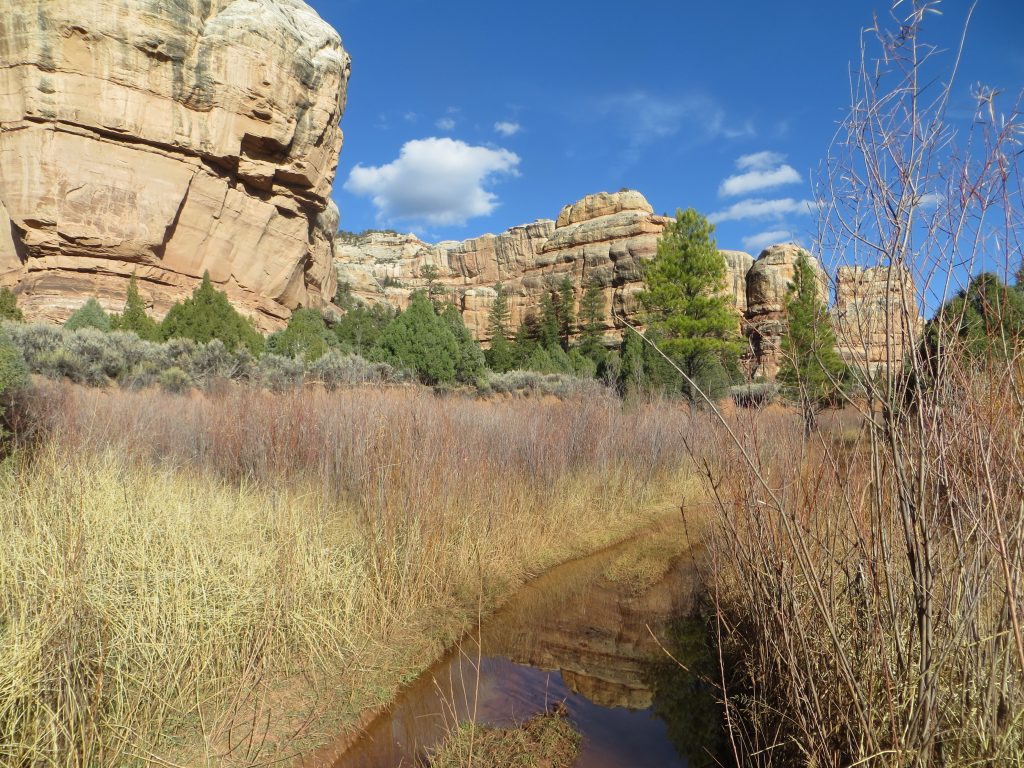 This place holds human-made history, an old cabin, barn, a broken cart. But I prefer the solitude of nearby Horse Pasture Canyon. The intimate space is edged with brilliantly painted rock walls defining a grassy meadow. I set up camp on the cusp of the flats, at the base of a bent oak covered hillside.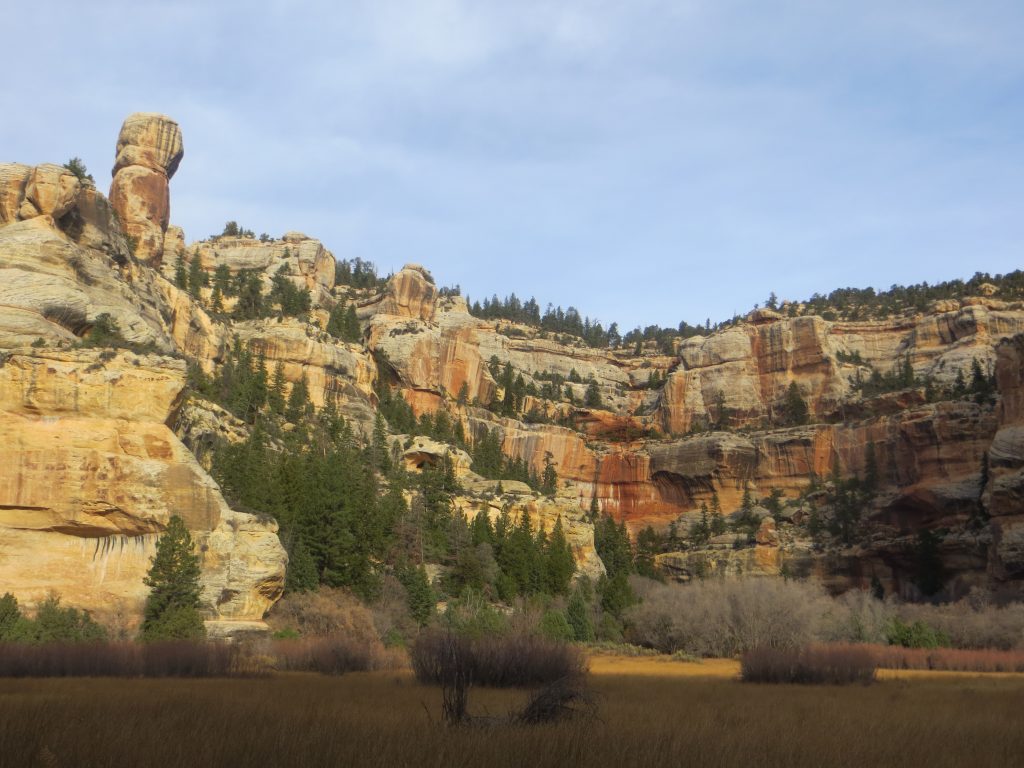 It's a pretty scene with the fascinating rock formations and subtle hues of browns, rusts and golds in the brush. I enjoyed the play among curvaceous branches, delicate leaves and firm rock.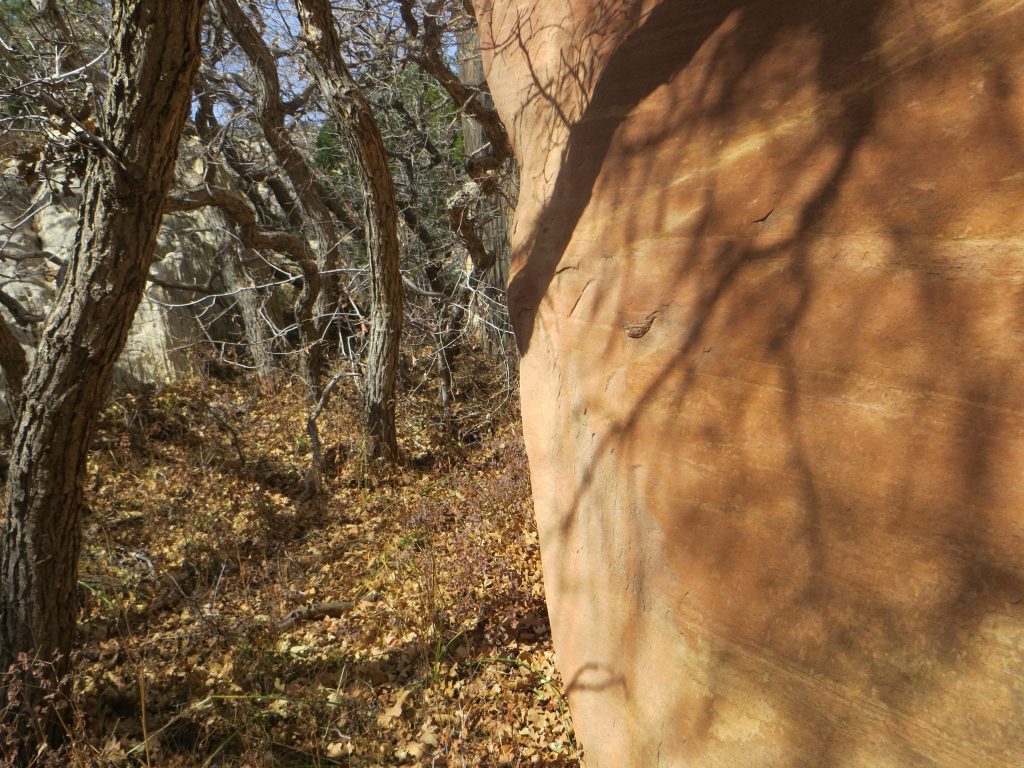 Morning explorations yield the discovery of a narrow rock bridge followed by a climb into a large high alcove. Nestled way back is a tiny granary. As I gaze over the landscape from the ledge, I realize that the granary is fully in view from my tent – only I'd considered it a small rounded rock! How much more there is than we ever know.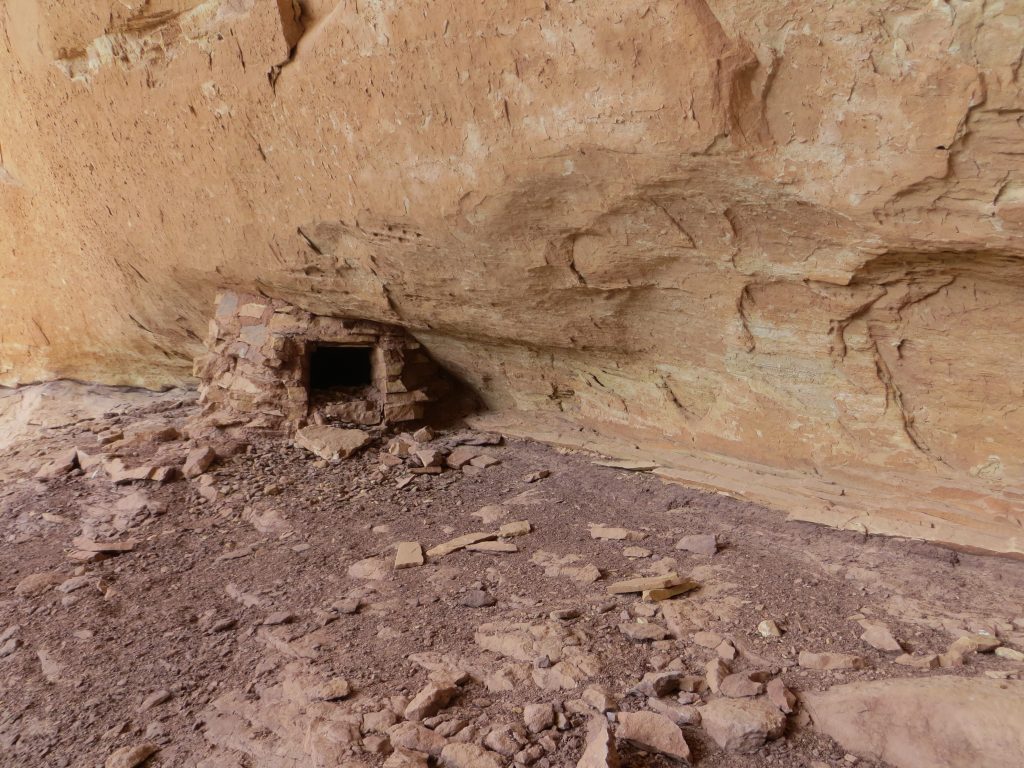 In time, this eager outward exploration turns inward. I feel urging home. I return to the intersection and start up Peavine Canyon. Walking on a double track doesn't have the sense of adventure of the narrow trail, nor as close connectedness to nature around me. I am glad when I regain the winding trail upcanyon.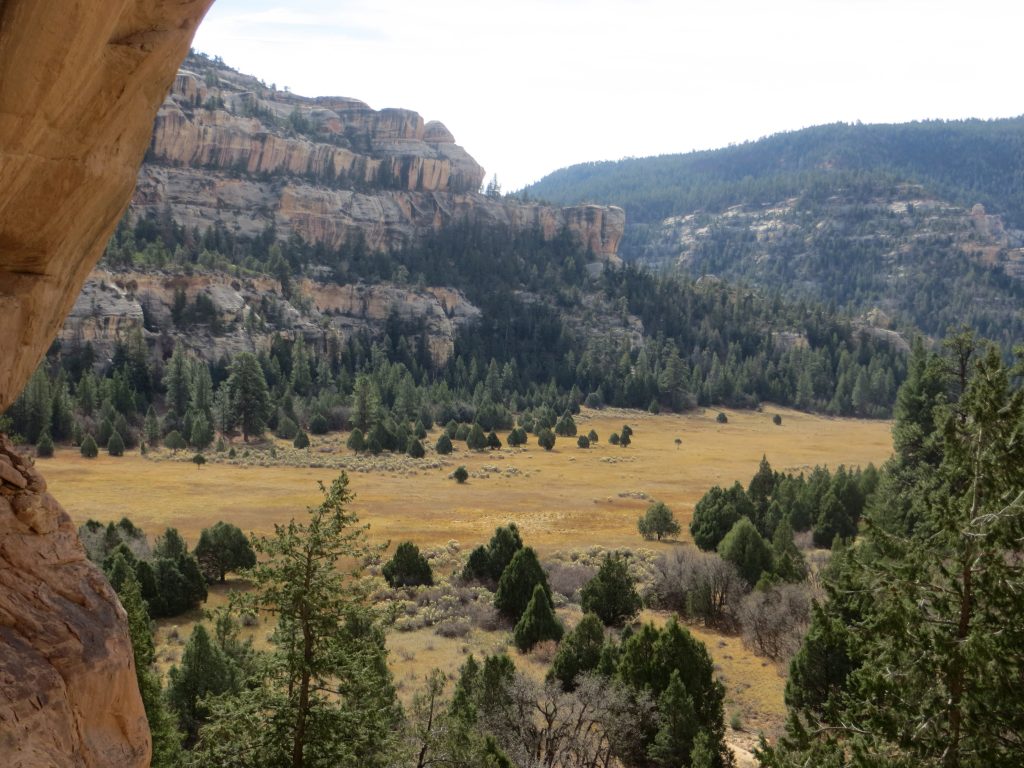 Stands of stark white barked aspen trees stand out among dark green firs, punctuated with pinkish sandstone monoliths. The grassy pastures look inviting but are eaten short by cows(ugh). Light is fading. My last night's camp has a perfect table rock. It is rectangular, attractively patterned with a flattish top, and located next to a friendly aspen tree with branches inviting hanging gear. My headlamp no longer working, I eat dinner by tea-candle light, then use my different senses to locate things and pack away. How well our bodies manage when allowed.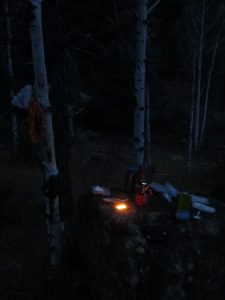 On the sixth day of my trek, I thank the canyons for their expansiveness, diversity, peace and companionship. I pass the wilderness boundary sign and return to my car, hiking the last few miles on a dirt road where an elegant flock of turkeys seemingly greets me.
Perhaps I came a little closer to being a beast.