"The Winds are calling…" read the text message from Montana mountain man, Dave. Dave has spent many seasons exploring solo in the remote Yellowstone backcountry; he is at one in nature with only a backpack, as I like to be. Two days later we met at the Elkhart Trailhead near Pinedale, Wyoming. With loaded packs, we were ready to begin our backpacking trip along the Sky Pilot Loop in the Wind River Range.
The Winds rise abruptly from the wide Wyoming plains – an exquisite island of warped rock, glacial pools and high craggy peaks. Their skyline evokes a fairy tale world of castles, spires, goblins and dragons in the clouds. Facts about the Wind River Mountains are impressive: Aligned from northwest to southeast, between roads there are 80 linear miles of mountains that encompass the Continental Divide. A 30-mile width across the range is hardly representative of the real distance created by huge changes of elevation to be traversed among the 13,000-foot peaks in the center, nor the two-day long hike to reach their bases.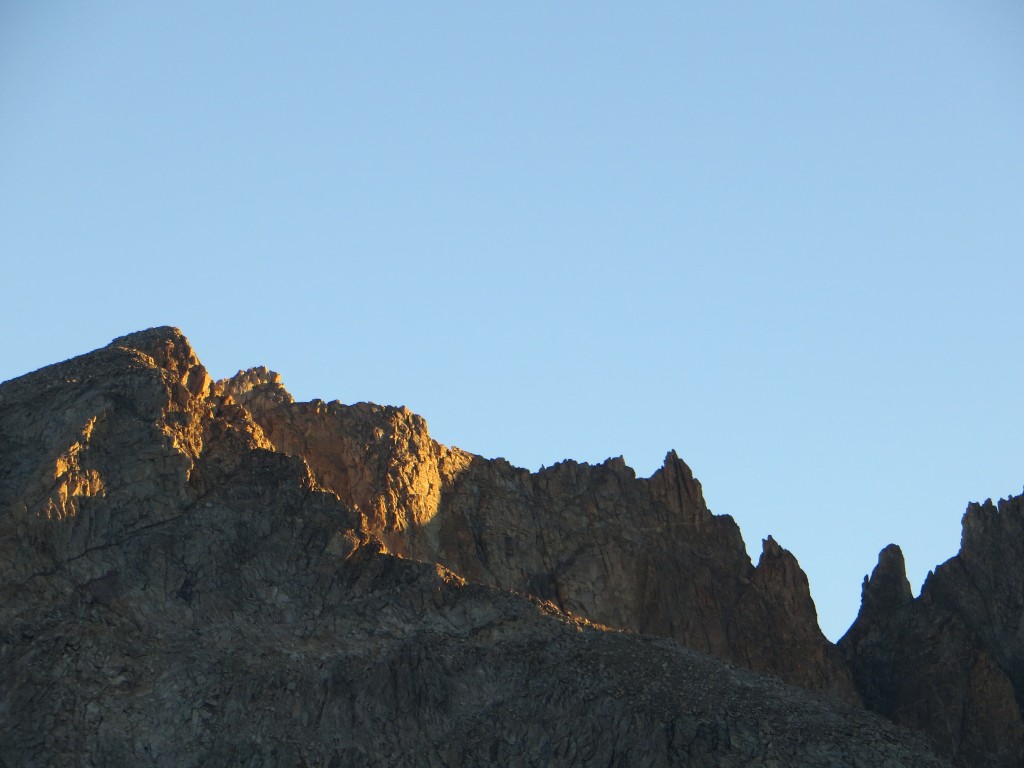 Still seemingly unfettered by man, few places like this remain in the continental United States.
No ranger cabins, designated campsites or advance booking required. Trails are generally narrow, rocky and of all different grades. And there are thousands of acres of remote terrain with no trails at all. Signs or even cairns are scarce. The signs we saw had faded letters notched in weathered wood, tilting on rough poles, like our Pine Creek trailhead sign.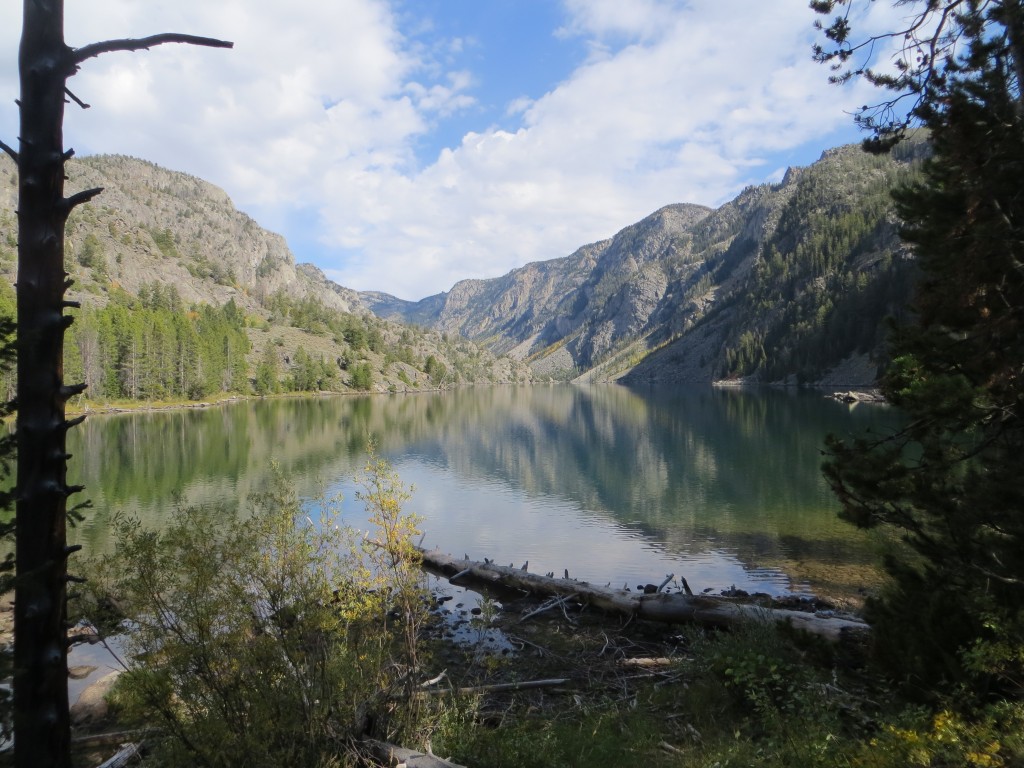 We began our hike by descending almost 1,500 feet to the magnificent Long Lake, dramatically set between steep glacial rock walls.
We followed Long Creek to the intersection of Pine Creek, almost sharing our bridge crossing with an enormous moose. Next we ascended over 2,000 steep feet through aspen trees gloriously ablaze in vibrant yellow and reds. We reached the ridge top with wide dusk tinged views, and were enticed to camp by Glimpse Lake peeking through the pines.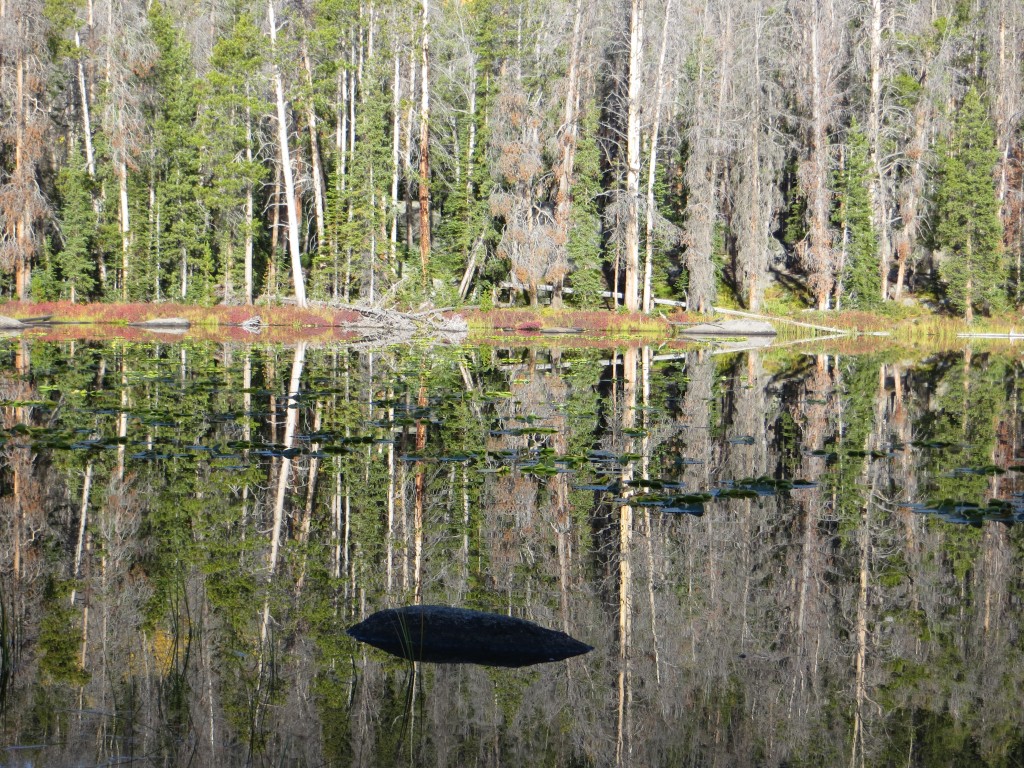 Glimpse Lake in the early morning.
Our second day's walk paralleled Pine Creek valley, high on the western ridge. We hiked north, passing many pools of water collected in glacial basins. These included Trapper and Borum Lakes nestled among evergreens and showy boulders. At last we reached the high plateau around Summit Lake, just in time to make camp before gathering dark clouds rumbled, releasing a soaking, cleansing rain.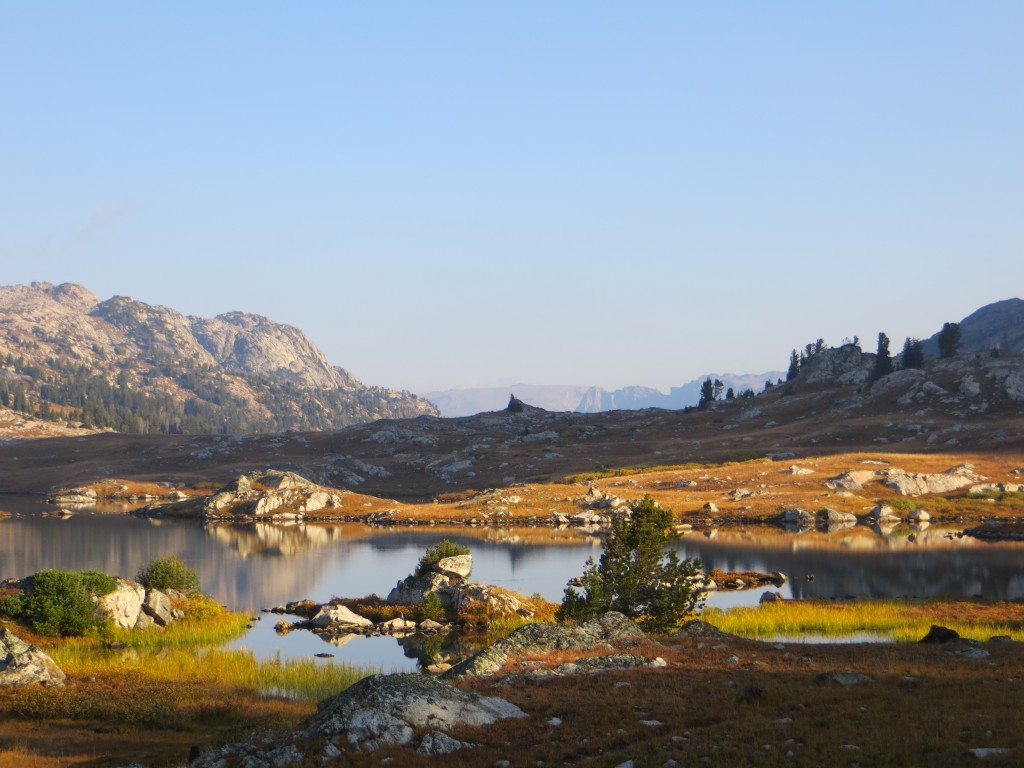 After the storm, the morning light was fresh and sharp, with vivid fall colors. The calm water held reflections with depths and colors rarely imagined.
We woke up slowly, soaking in the scenery and the warming sun. Our trail continued along the head of Pine Creek valley, crossing the creek near sparkling cascades shooting in diverse directions. We ascended further, well above 10,000 feet. A series of looping switchbacks were taking us deep into the heart of the Winds, past Sky Pilot Peak. As we crested a high rise, we gained our first view of Elbow Lake surrounded by dramatic peaks that extended in all directions. We stopped and looked, amazed..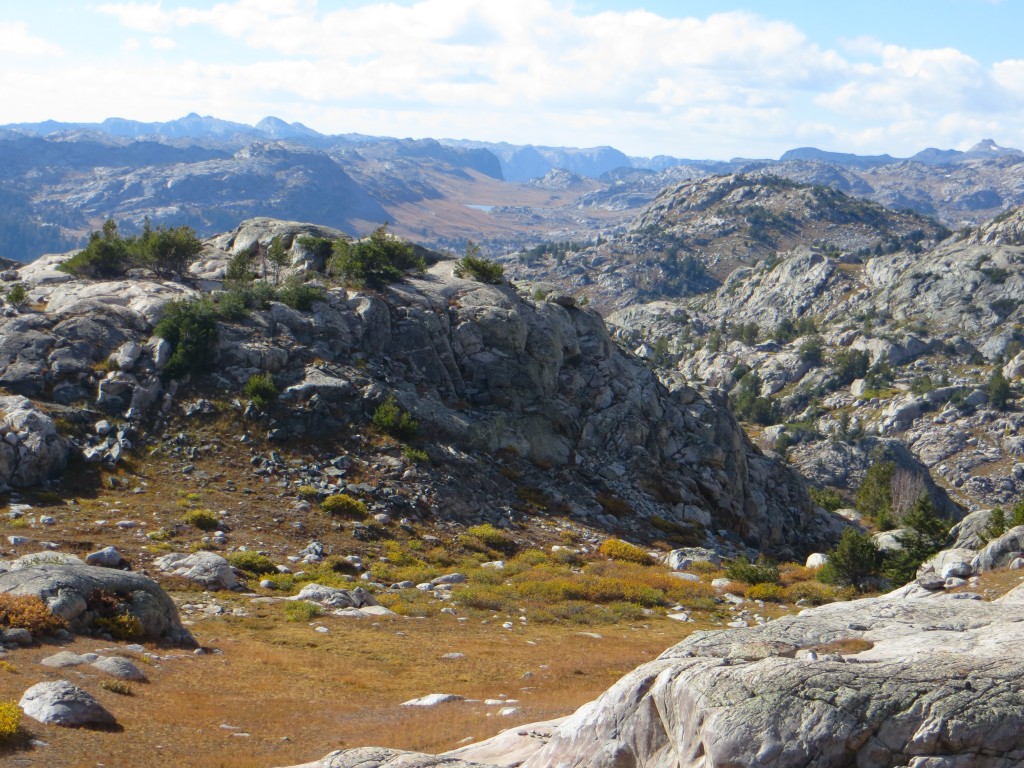 Squiggly lines of rugged peaks extended to the distance.
Upper Elbow Lake and numerous smaller pools occupied the next high basin, where water formed rocks and rocks defined water. At this elevation, even the last small stunted spruce and pine trees were absent from the landscape of swirled stone, water and reflected light.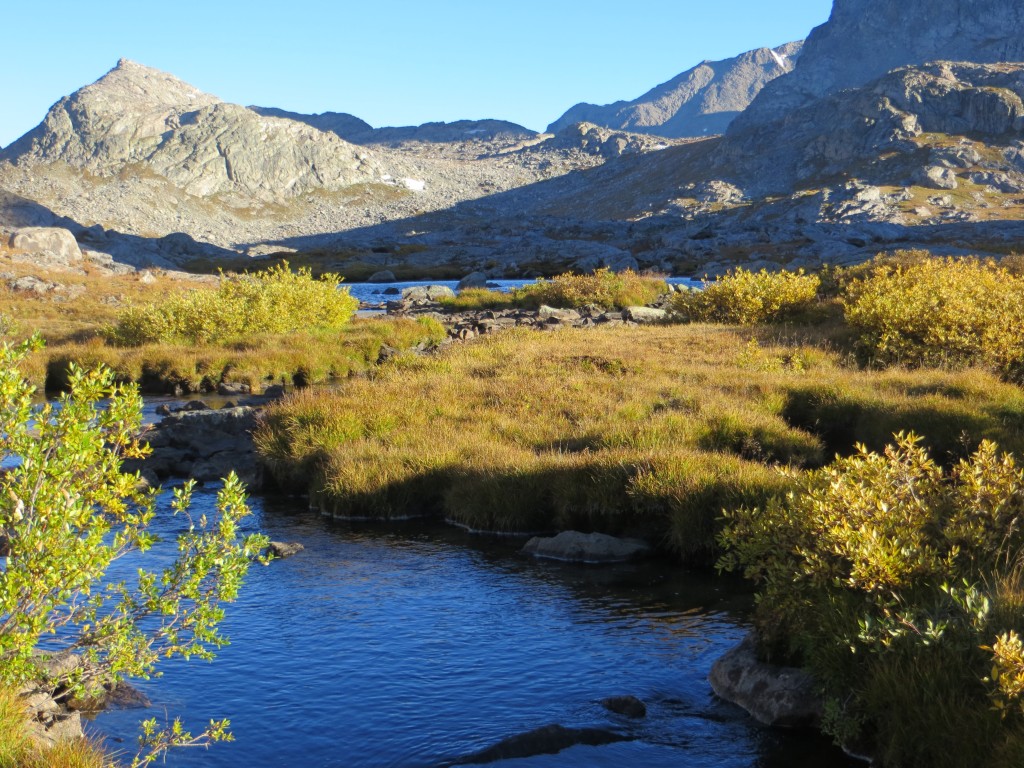 Curved hollows in the skyline embraced the fading auburn of the evening sky. The last flare of gold on a high rock face darkened, but night came slowly as a soft alpenglow recharged pink highlights. Deep shades of sky blue dimmed, first stars twinkled, and only then the mountains gave up their light to stand still as black guardians.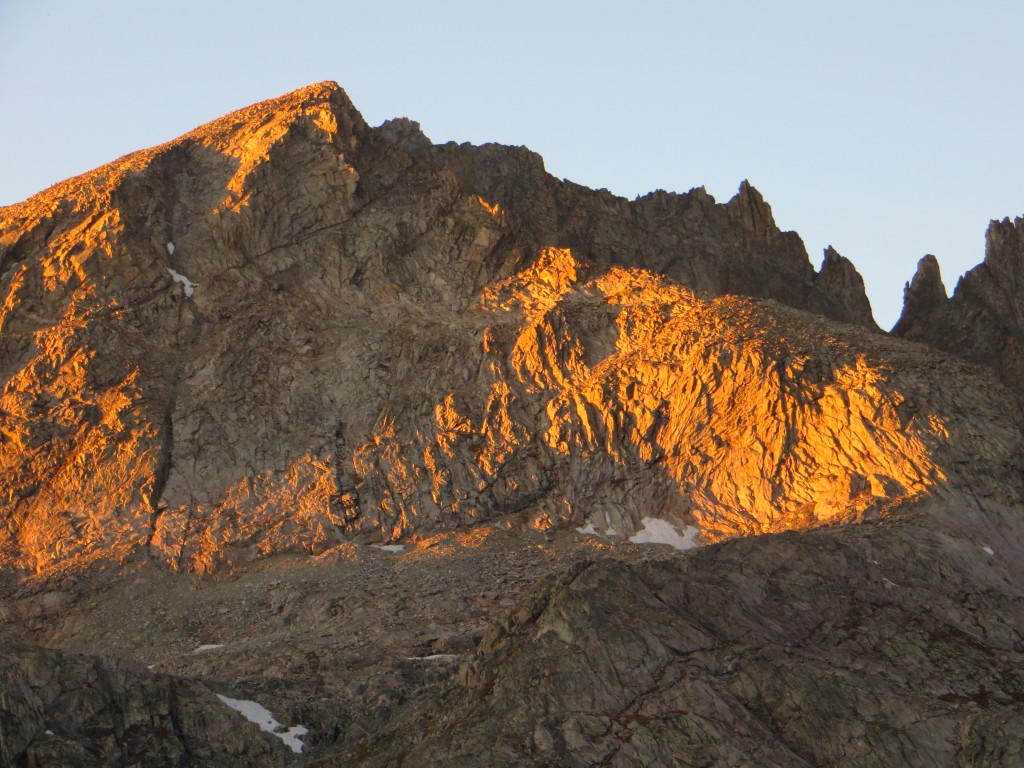 The low angled evening light cast long shadows and highlighted needle like edges. Photo by David Knies.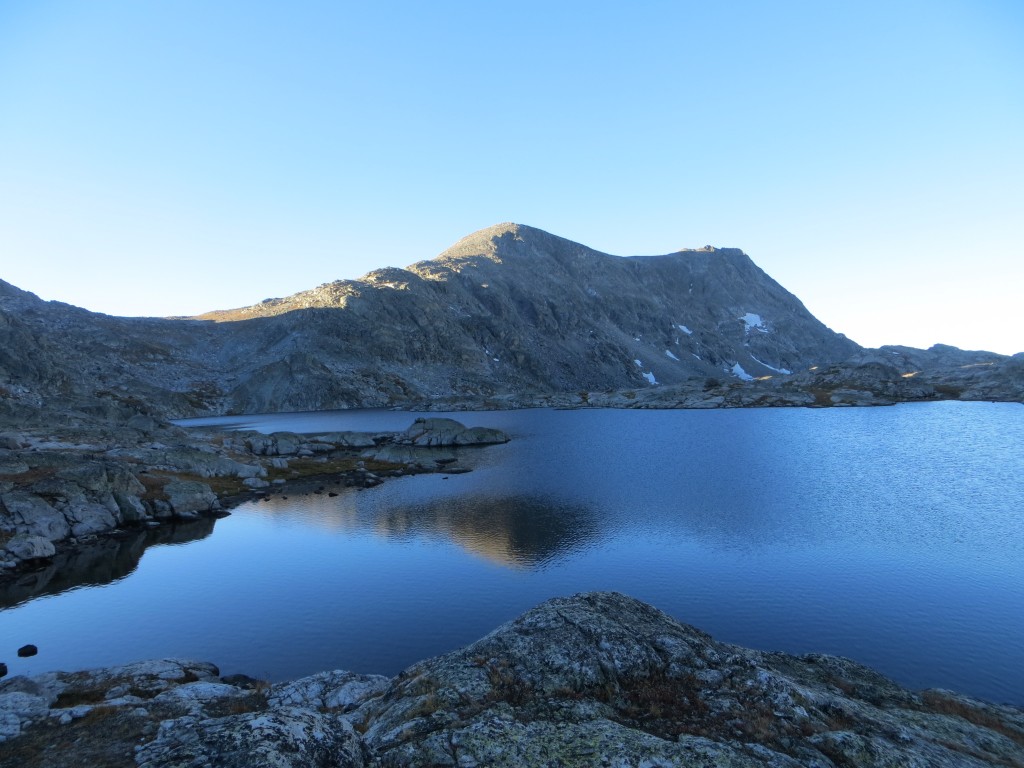 Invigorated, I leapt up at first light to watch the frosty morning shadows recede and light illuminate the details of this intricate tapestry of rock and water, light and reflections, movement and stillness.
On our fourth day out, I felt more closely connected to the intensity of this wild landscape with a power that's tangible. Energies merge, impressions linger. An angular boulder was a black and white art piece. Streaks of crystalline lines ran across its granite face at crazy tilted angles. I jumped into an icy lake, where ions exploded in sprays. I shook the droplets from my skin, feeling recharged. We wanted to linger in this high-altitude other-world.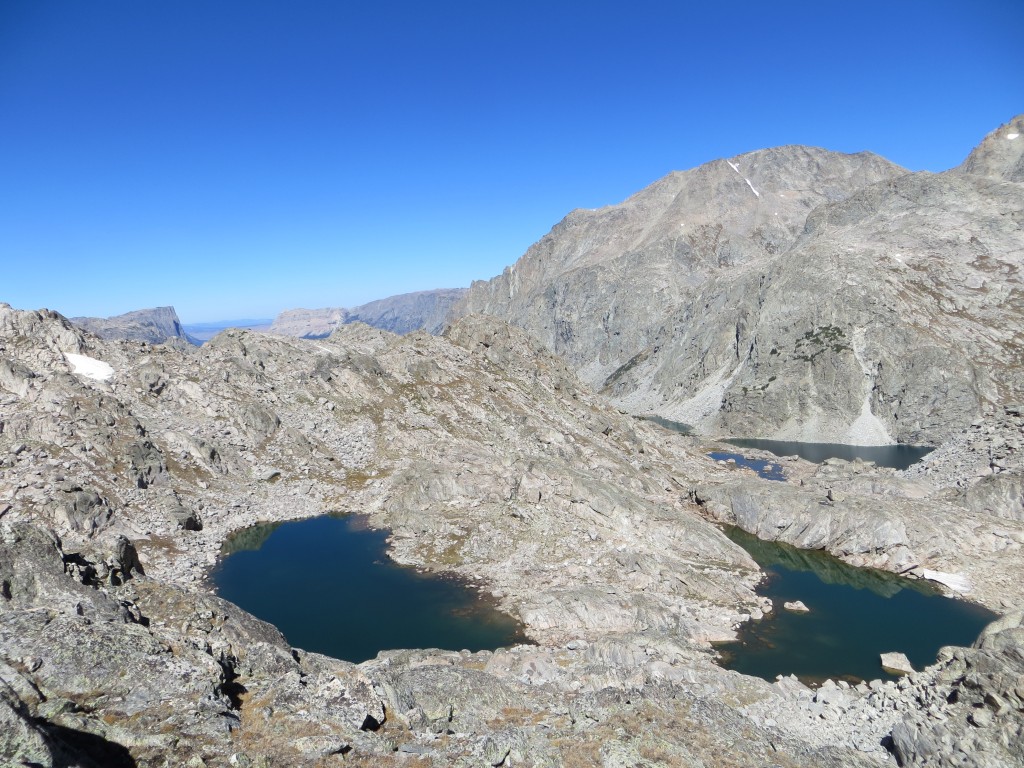 We hiked north through Shannon Pass near Stroud Peak, looking into the stunning Peak Lakes basin and beyond.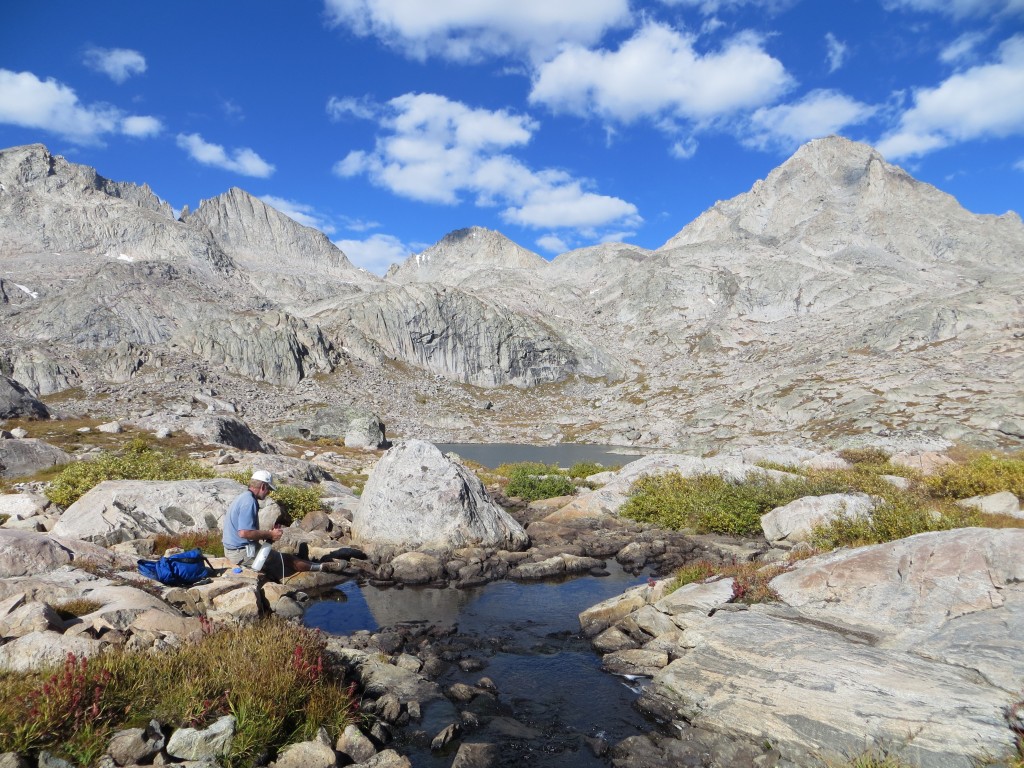 We entered the Upper Jean Lakes basin, and set up camp amongst clear pools and creeks.
We were further surrounded by scintillating turrets of stone. To get closer to these fantasy forms, we clambered up a ridge east of the lake. It was higher and further than it appeared, but at last we summited the ridge and peeked into the next basin over, that was followed by another, and another. We felt our mere human scale, dots in this mighty landscape formed through major forces over geologic time.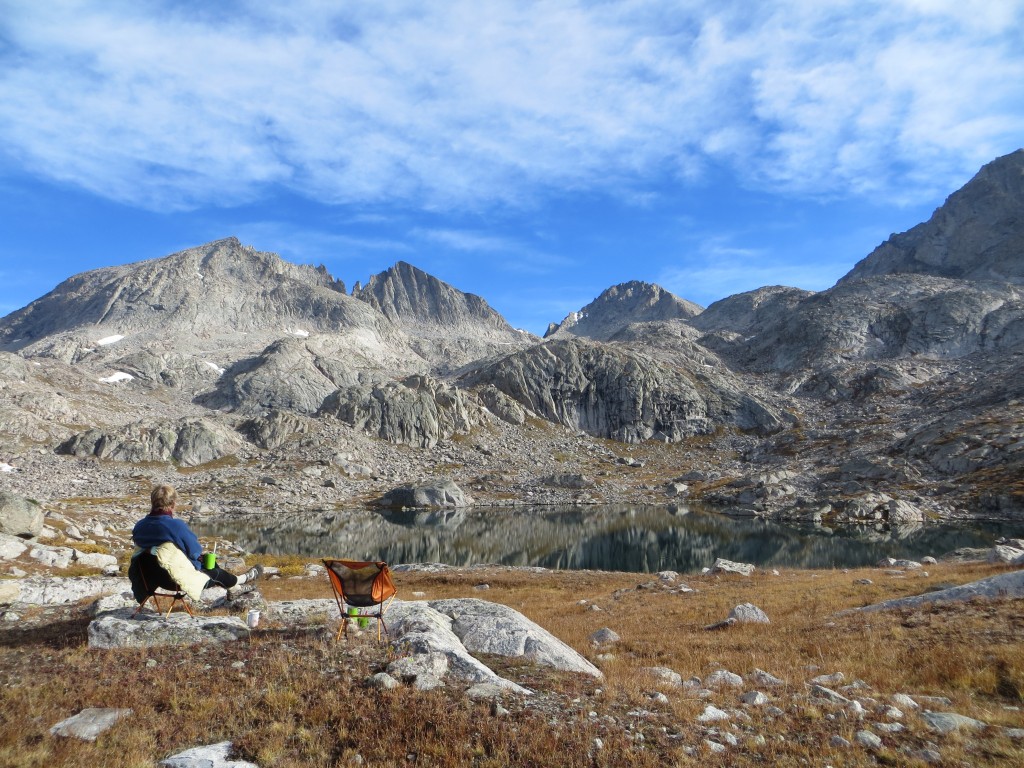 One more cup of morning coffee.. It was hard to leave the high country.
We descended into Fremont Creek valley, awakened to the way water dances with gravity. It bounced over steep angular rocks, flowed in wide willow lined creeks, was at rest and tranquil in large pools. The sub-alpine environment ignited all senses – sounds of water cascading, smells of wet earth and decaying leaves, the feel of rocky ground underfoot.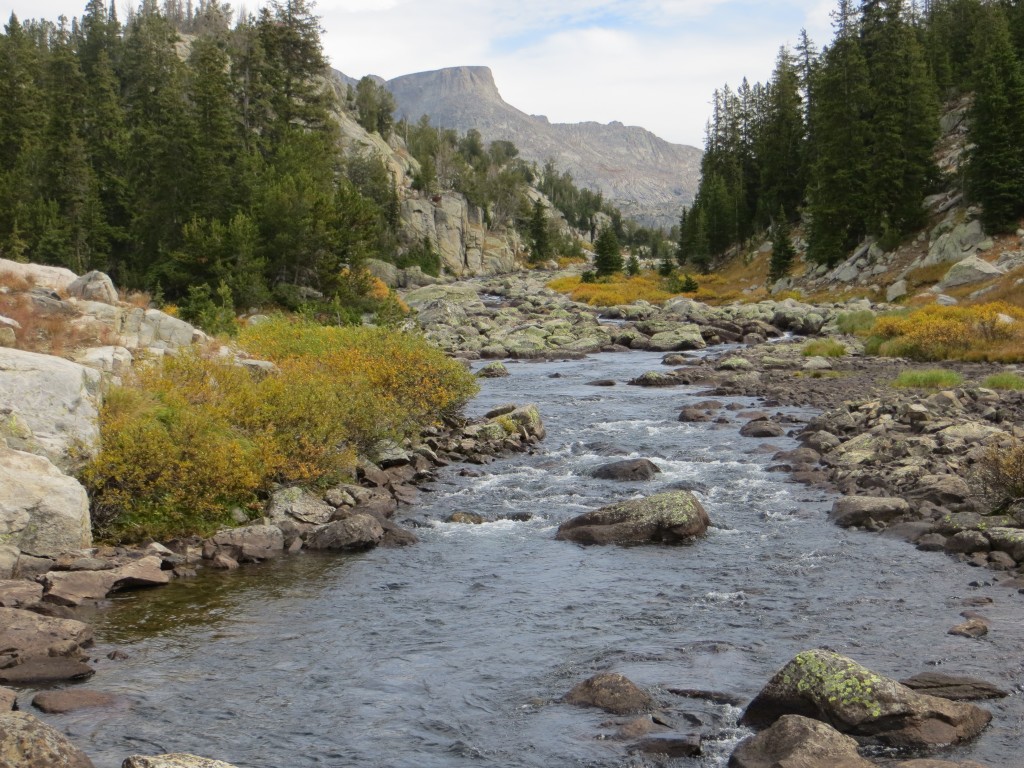 Our journey out from the heart of the Winds was a wandering through magical places.
After the sparseness of high altitude, the greens of tree needles and reds of shrub foliage were lush and bright. The trail meandered through varied small ecosystems, deer scattered, a creek rushed by, and dividing ridges provided glimpses back to the high places where we'd been.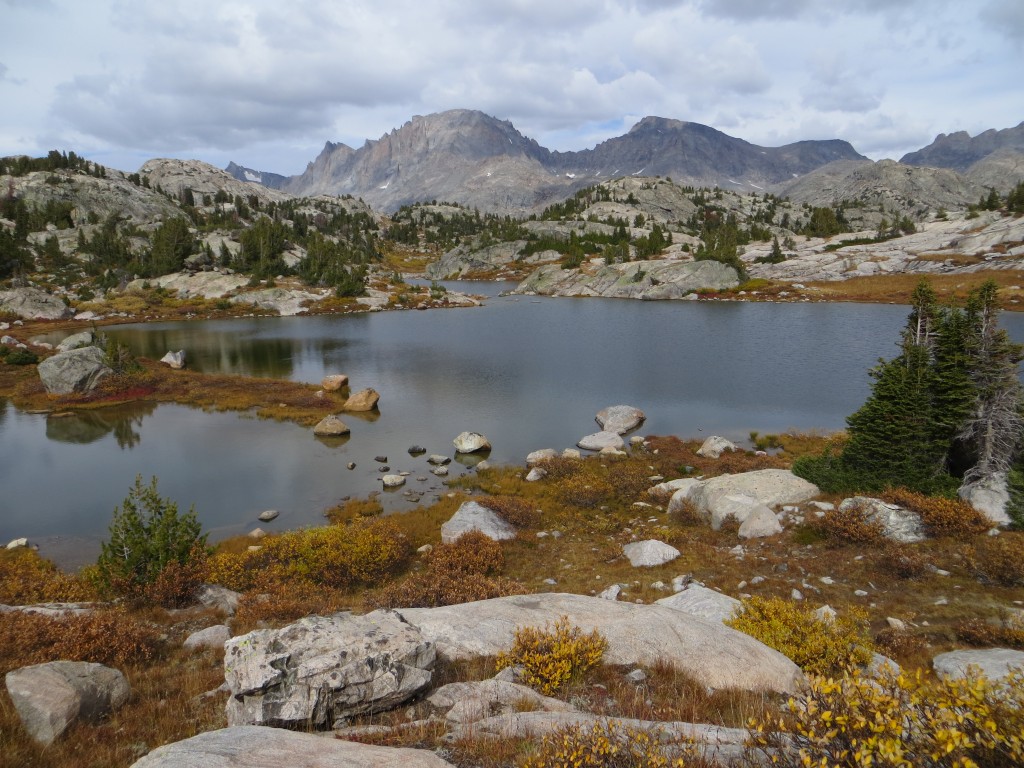 A sweet lake attracted me with its patterns of color and big mountain views beyond.
Late on day five, our trail connected to the main Island Lake trail, bringing us out of the place where we'd been alone for five days. Continuing to a little below Seneca Lake, we found a circular grove of spruce trees around a fire ring, in a round meadow. We felt centered here, especially with the glow of flames and warmth from our fire.
Again, it was a night of saturating rain. Morning was enveloped in a soft mist that soon also became rain – perhaps a trip-end signal that urged us back on the trail. The forested lower slopes still carried gifts. We passed colorful Hobbs Lake and beautiful Barbara Lake.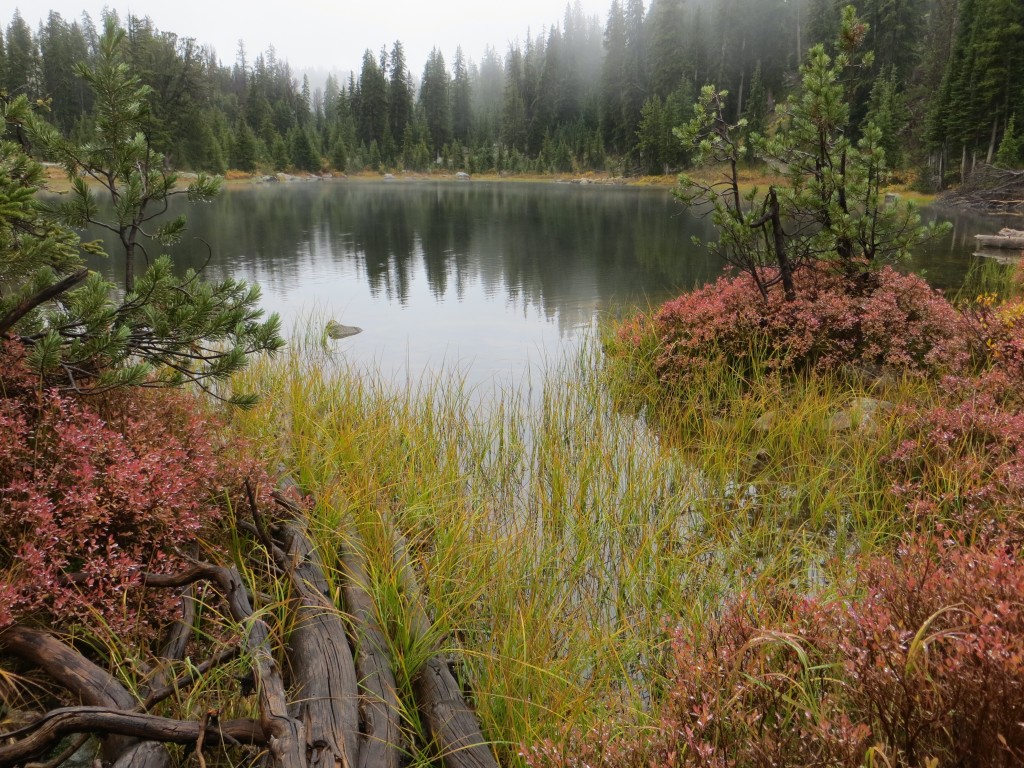 Reluctant to leave, we walked a semi-circle via three more lakes gasping at rich colorful foliage, reflections and the mystery of mist floating above water.
On our final stretch on the Pole Creek trail, dripping from a day's rain, we met new trail friends from all over the country. They were also walking in the rain with broad grins, grateful to be in the Wind River Mountains where a person might feel the solace of immense wild places.
Our hike complete, we camped at Pine Creek trailhead, where we watched orange tinted morning clouds fade, and sunlight slowly cast its luminous glow. Vistas extended north, encompassing peaks now familiar from our loop. Dave soon had camp working – the green tent spread wide on a washing line, a range of wet gear set out to dry. I sat comfortably in a camp chair sketching and reminiscing on our route.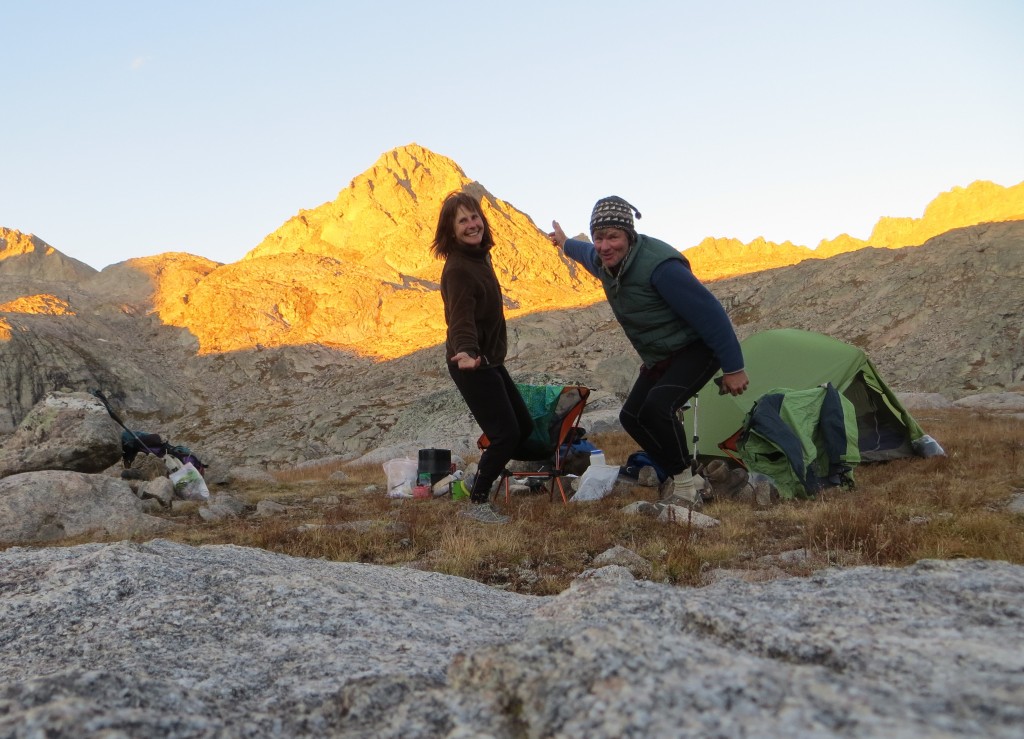 The Winds spell was still strong, I wanted to nourish the feeling of wild nature inside me.