It only happens once, the time I first discover a place. When I feel naively open, like soft pink petals of blossoming salmonberry and all is fresh like the new leaf green of its foliage. My senses are alert as I deeply inhale salt smelling air and catch shrill seagull sounds in the sky. The differences from my home in Colorado are stark.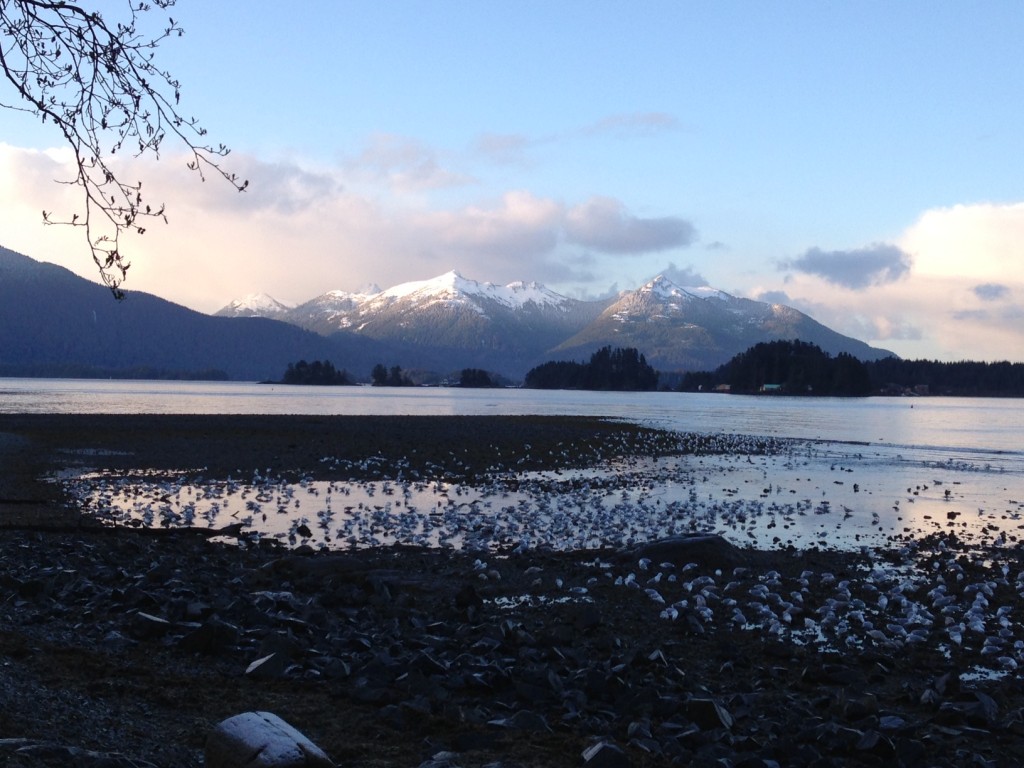 South East Alaska is a land by sea, islands among sea, lakes on land. Colored in shades of grays, greens, and sometimes blues; ancient, ever-changing.
There is no clear order, no neatly layered bottom rooted in deep soil, nor tree trunks pointing up straight to a clean top line of sky. Instead, massive spruce and hemlock rest across the forest floor, their upturned shallow-wide roots a living green wall supporting brilliant green lichens, mosses and ferns.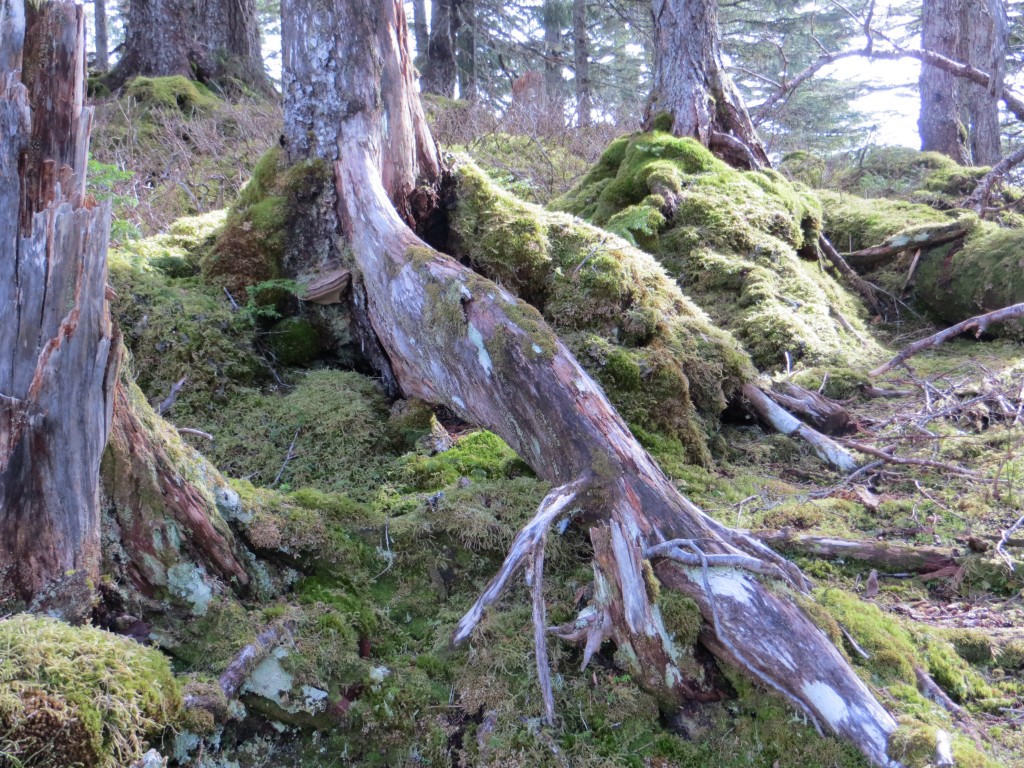 Base twisted roots entwine, pairing massive trunks as families of trees. I wonder where does one begin, another end? There is not death, instead rebirth, regeneration, the fallen becoming grounds for fresh new growth. The forest is verdant, deep, alluring. Spirits of ancestors whisper.
The sea feels expansive with mysterious edges where land and water meet, punctuated with coves, rippling waves, big black boulders, coastal curves and crevices.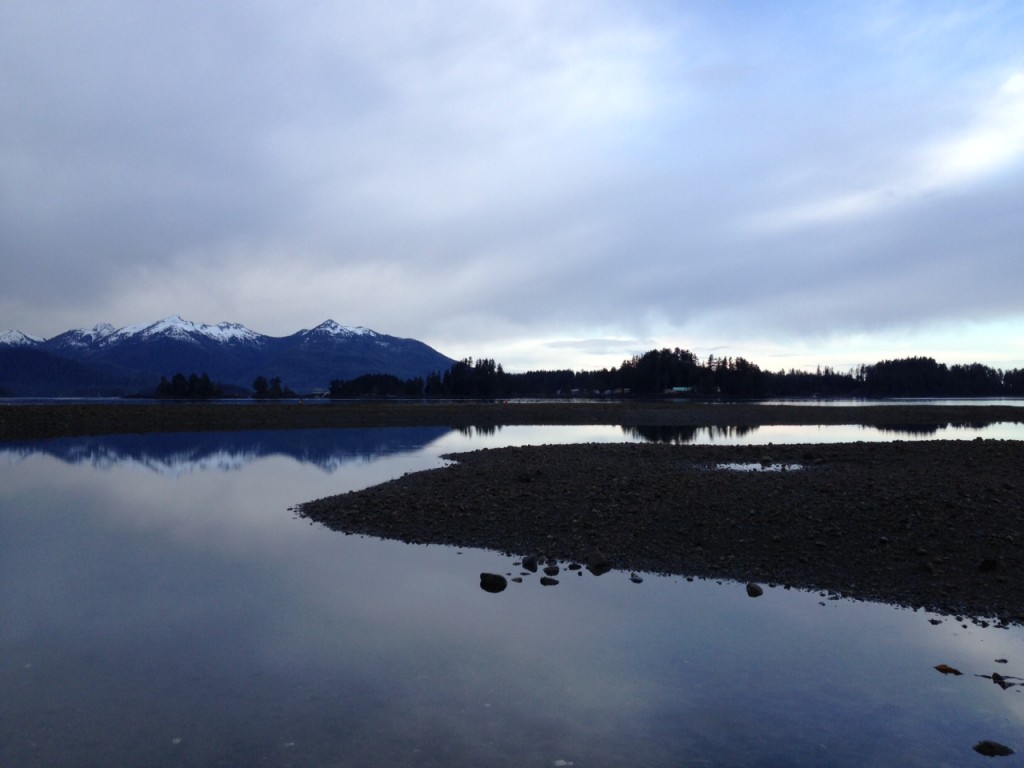 Water pools and laps among small dark pebbles, falls cascade straight down towering dark cliffs, white froth bounces playfully over gray smooth worn rock. Creeks so clear that pebbles shine below, the surface glimmers in cyan blues.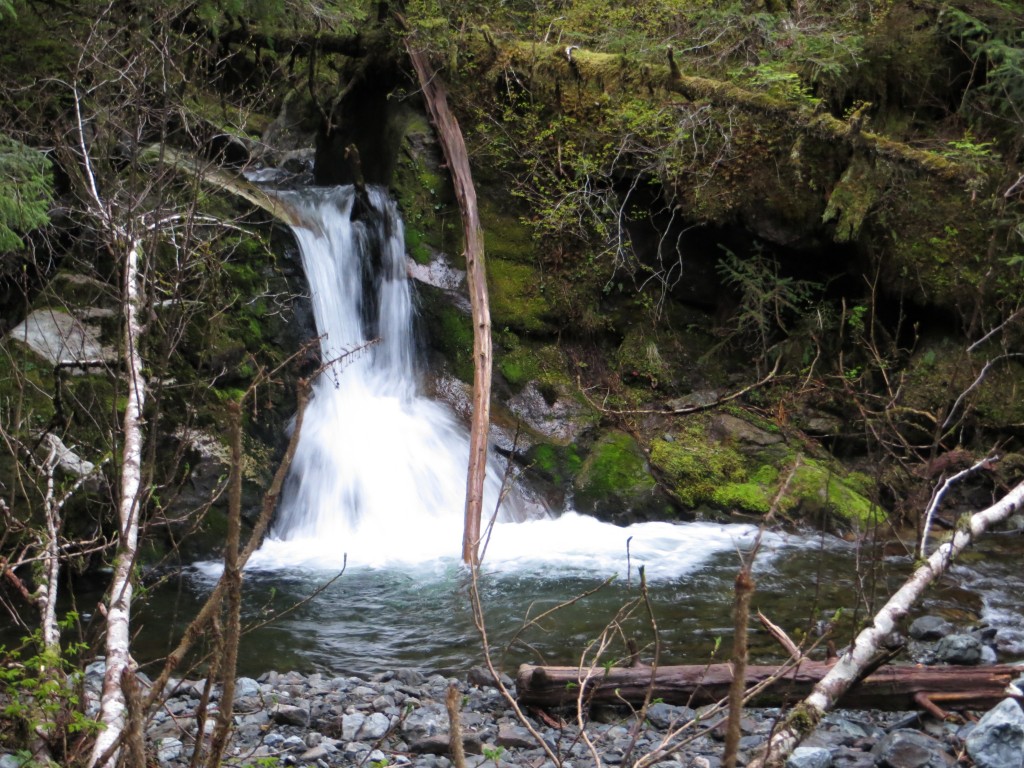 This landscape doesn't hold still to be captured (on paper), it paints itself, in watercolor, always fluid.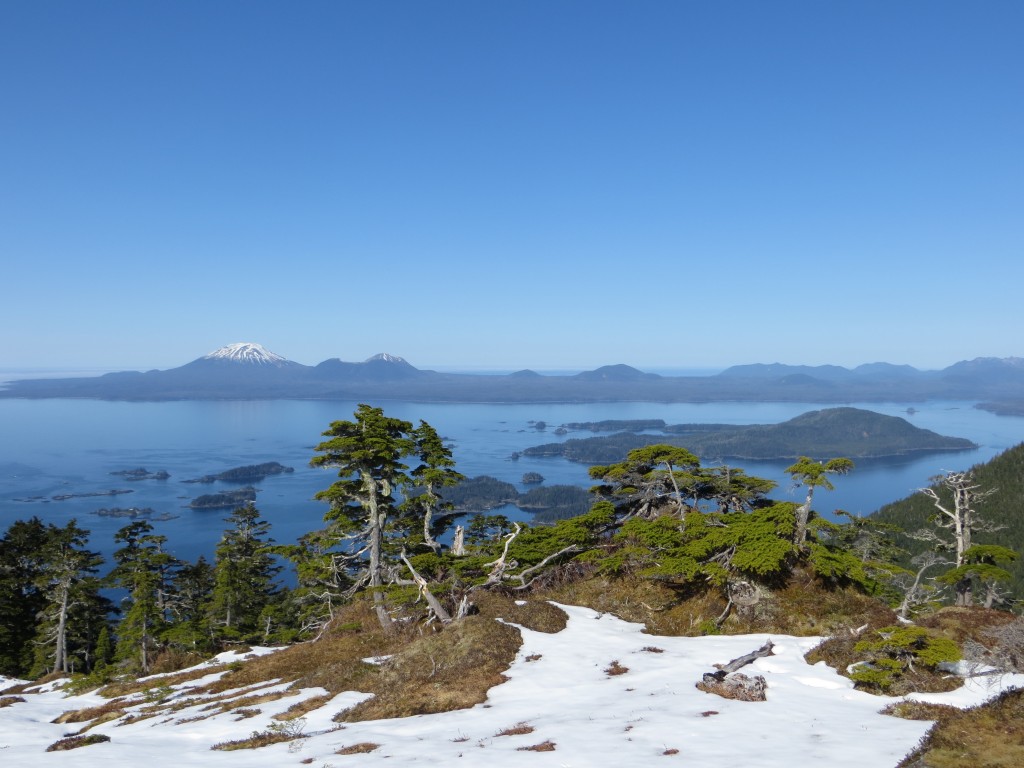 The sky is not a flat blue backdrop. It is part of land and sea, alive with flocks of calling seagulls, with white-headed black-bodied eagles that spiral and soar the thermals, with multitudes of wings that shimmer in the light. The sky holds water in many forms – fat puffy clouds, mysterious sweeping mists, fogs draping snow-capped peaks and silhouetting forests. Water vapor always moving evoking ever changing panoramas, bonding to earth with falling rain. A spiral of life like the ancient petroglyphs inscribed on rock.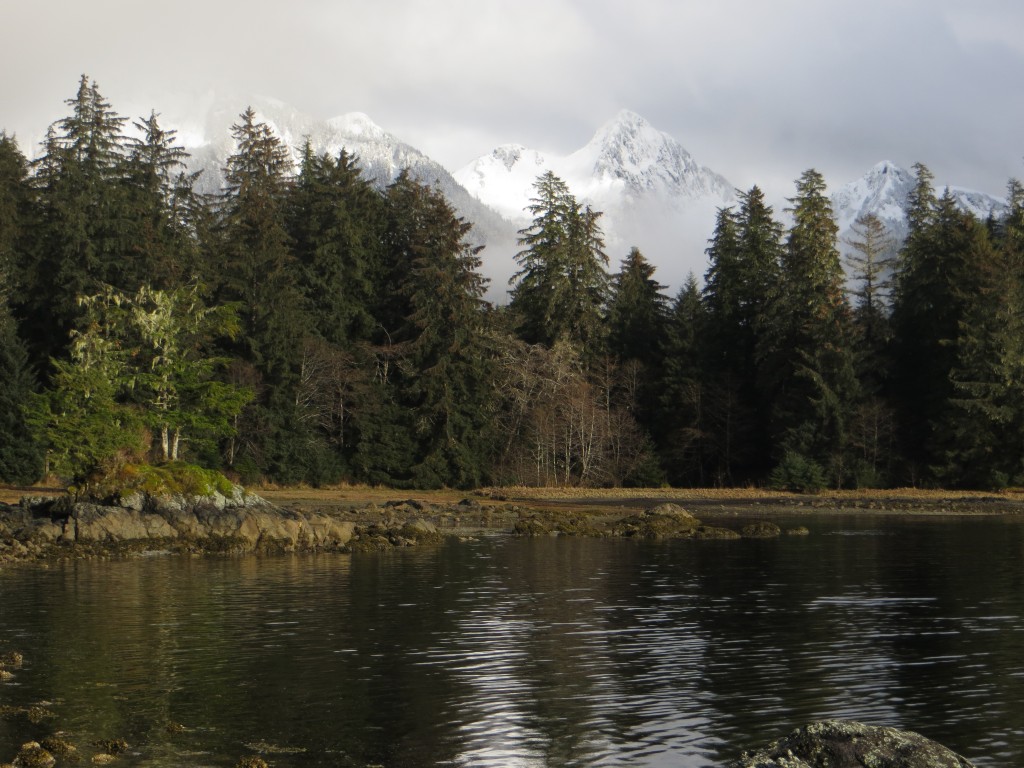 Sitka is my moody muse. She dulls me with her endless greys then pierces me with unexpected searing shards of light. The sun emerges as a magical gift. It transforms earth and sky. Energy abounds, changes to evening's pink and orange frolic, and lingers long in night's deep blue twilight.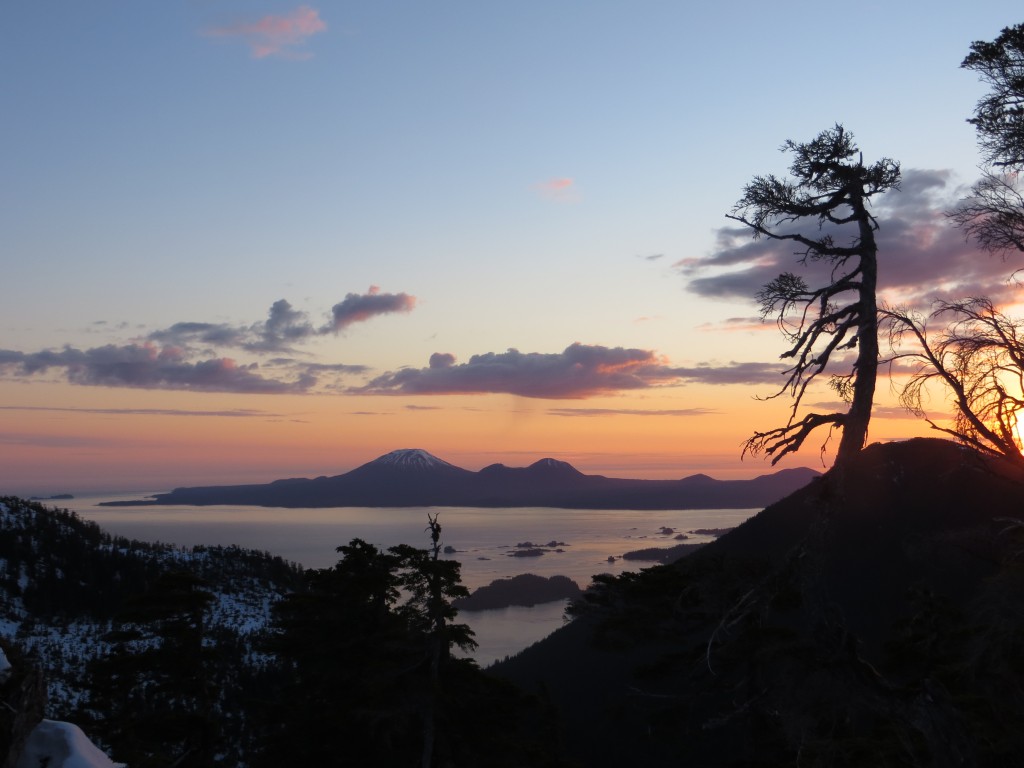 A place evocative, where hundred year old trees hold knowledge of times past, sculpted totems tell stories and voices of ancestors are still heard. In town, the round Russian church, rectangular bishops house and elegant once-college campus speak of the more refined.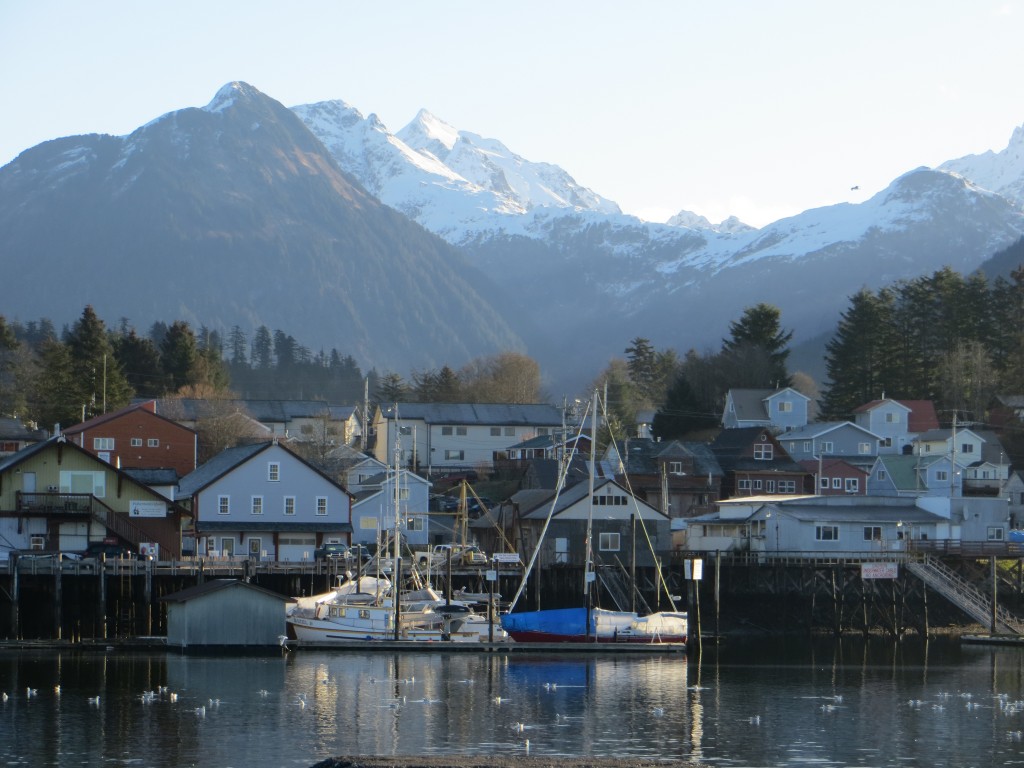 A place where people-time pauses – small shops that still sell everything from milkshakes and toys, to hard candy, kettles and tea cloths.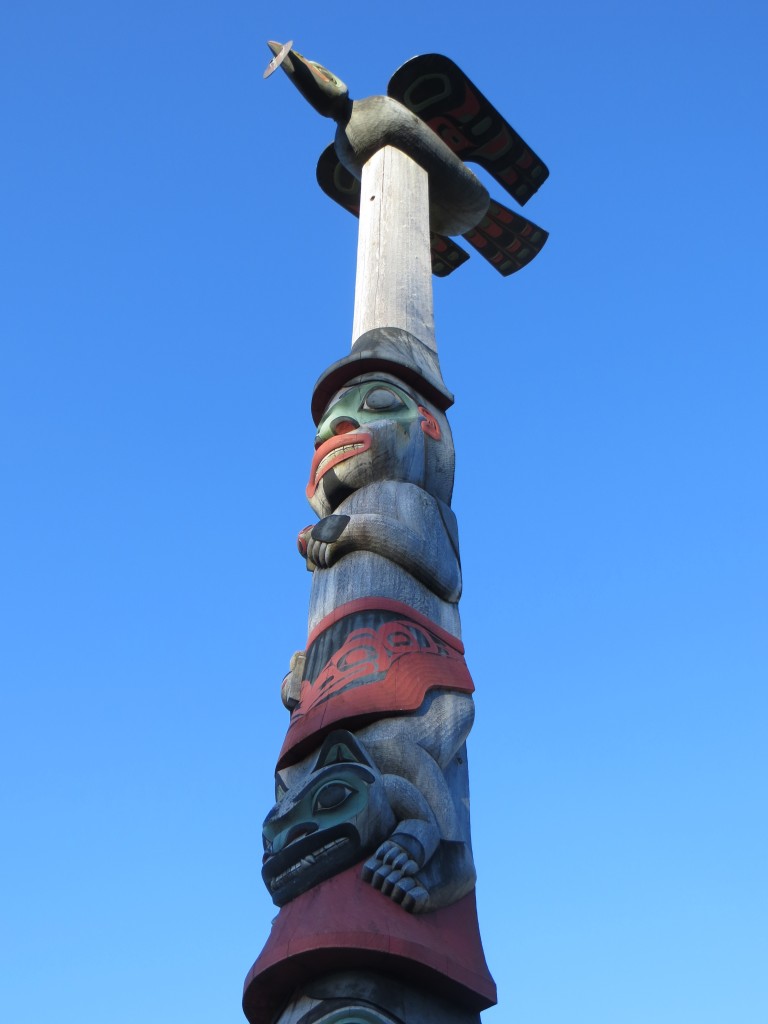 There are many stories to unfold.