Spirals and circles, meticulously chiseled into desert red-rock walls hundreds of years ago, perhaps represented cycles in the lives of the ancestral Puebloans, as they have meaning in the cycles of our lives today. My season of living outside started in early spring amongst warm desert rock and now, in late fall, the cycle is complete.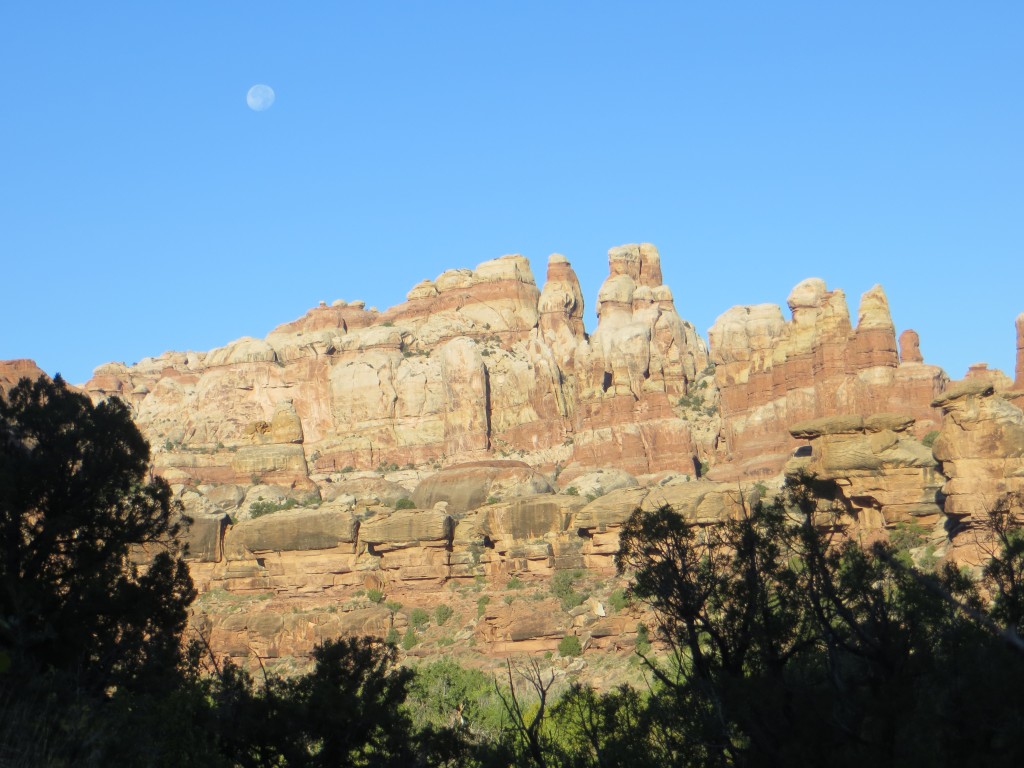 Three years ago, I made a three-day backpack into lower Salt Creek canyon, in the Needles district of Canyonlands, camping beneath a crescent arch under a full moon. I hiked up-canyon a ways, then turned to visit angel arch. From that time, I was drawn to discover more about the upper section of Salt Creek canyon, where I heard there was limited camping and plentiful evidence of ancient people from the past.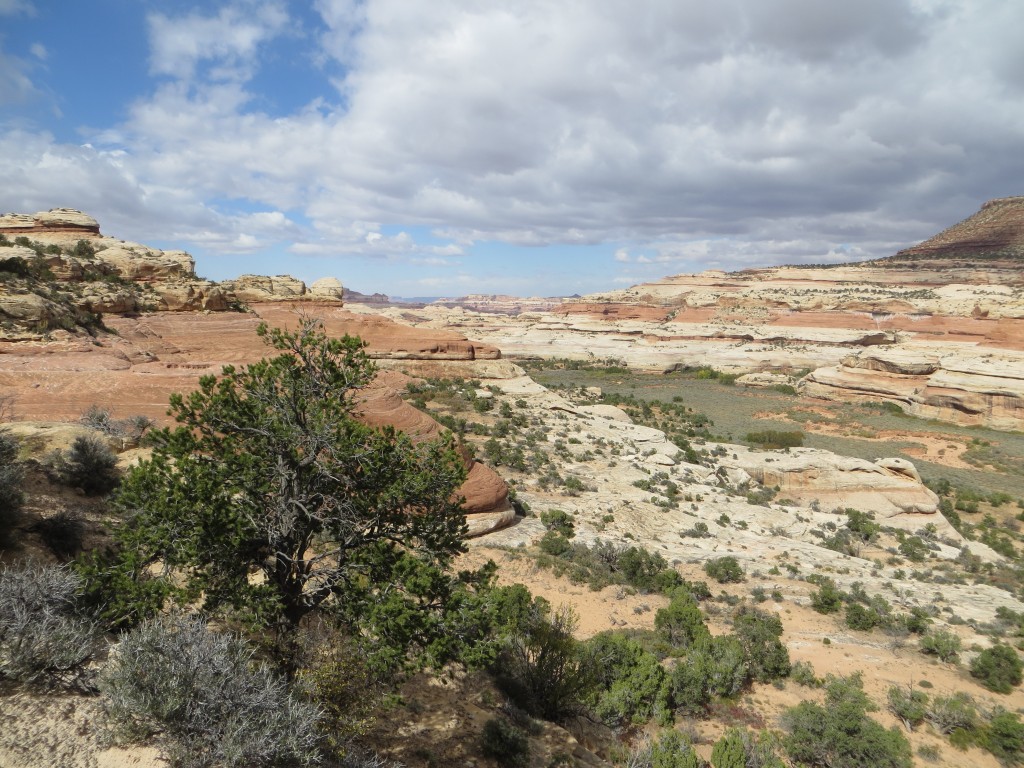 The circle came around this fall, as my friend, Dina, and I descended a thousand feet from the canyon rim off Beef Basin Road into upper Salt Creek. It was a long day of backpacking – 12 miles downcanyon to our camp. We passed through forests of bulrushes, glimpsed hints of ancient habitations, and were surprised by seductive waterfalls. We marveled at a boundless gnarled rock landscape striped in pink and white like a scene from the Nutcracker.
Our camp was beneath a large homely cottonwood tree in the dense riparian bottomlands of Salt Creek, the lush vegetation being a special feature of this desert canyon. It was dusk when we pitched the tent and started to cook, later to learn that these shorter fall days would foster several more nights of setting up camp by headlamp while watching glittering stars emerge beyond.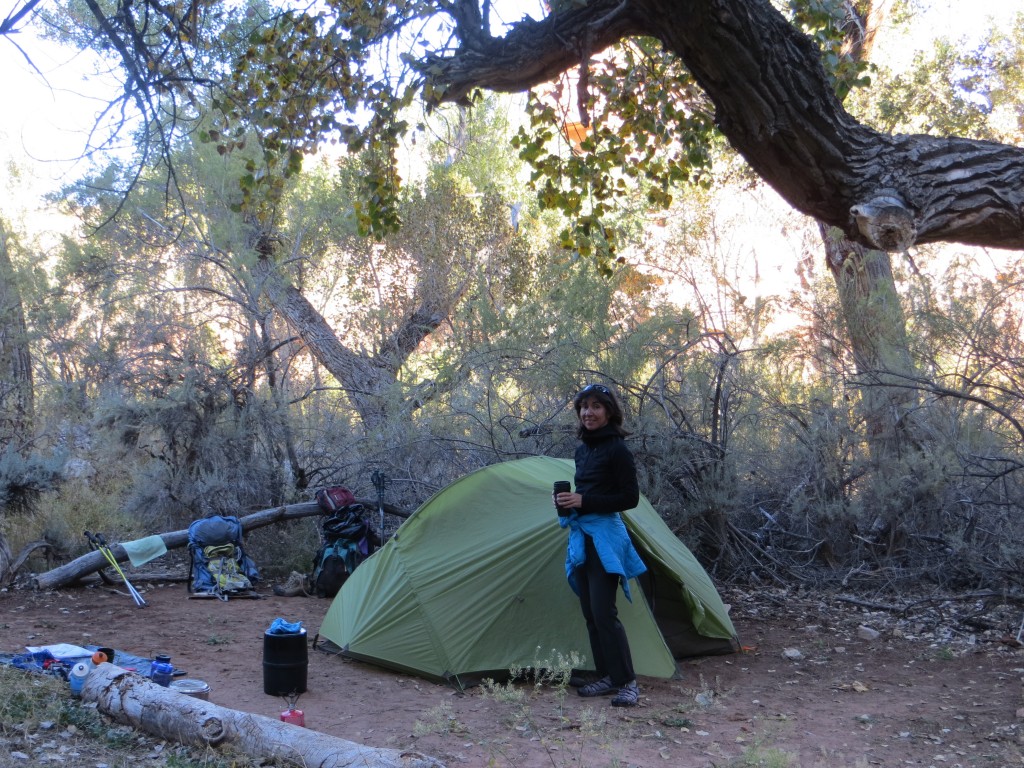 In the morning, our camp was in deep shadow, but as the sky brightened light shimmered on the ridge behind, enticing us up, over and into a whole new world of spires, pinnacles and fantasy creatures hued in a spectrum of crimson through cream.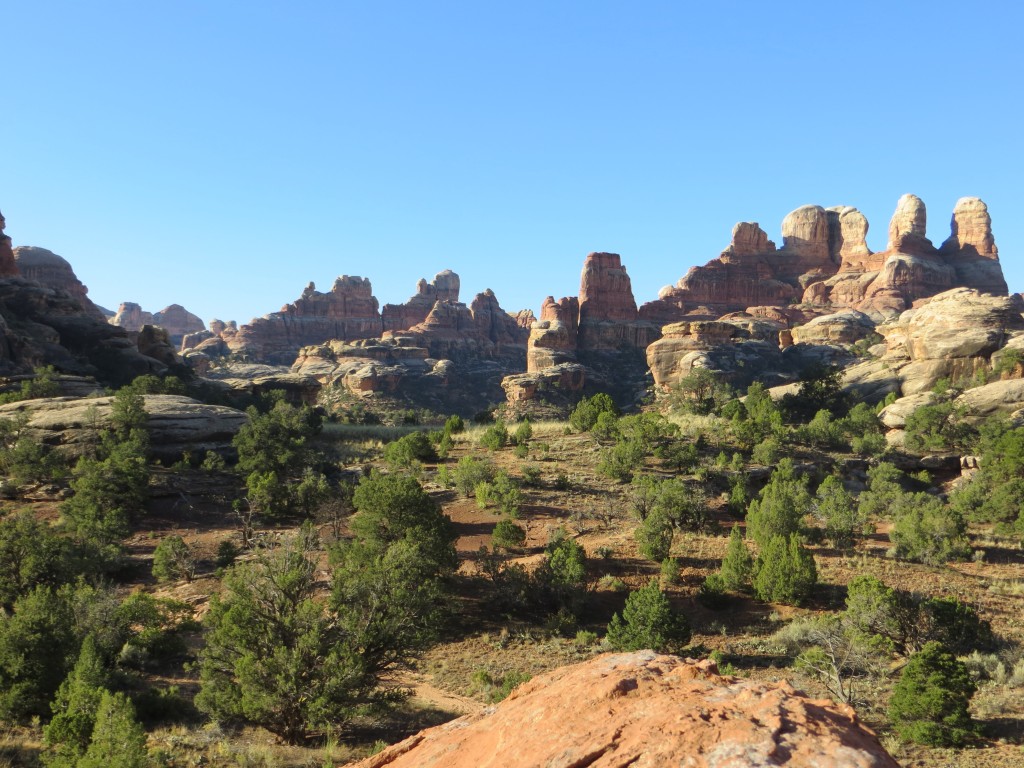 Mesmerized, we sat quietly meditating on the richness of the ever changing sunrise light. The theme of circles repeated in curved and rounded rocks with conical heads and mushroom tops, smoothed over centuries by water drops. At last, with a mind map of sights(and sites) to be seen, we embarked on our return up canyon and further exploring.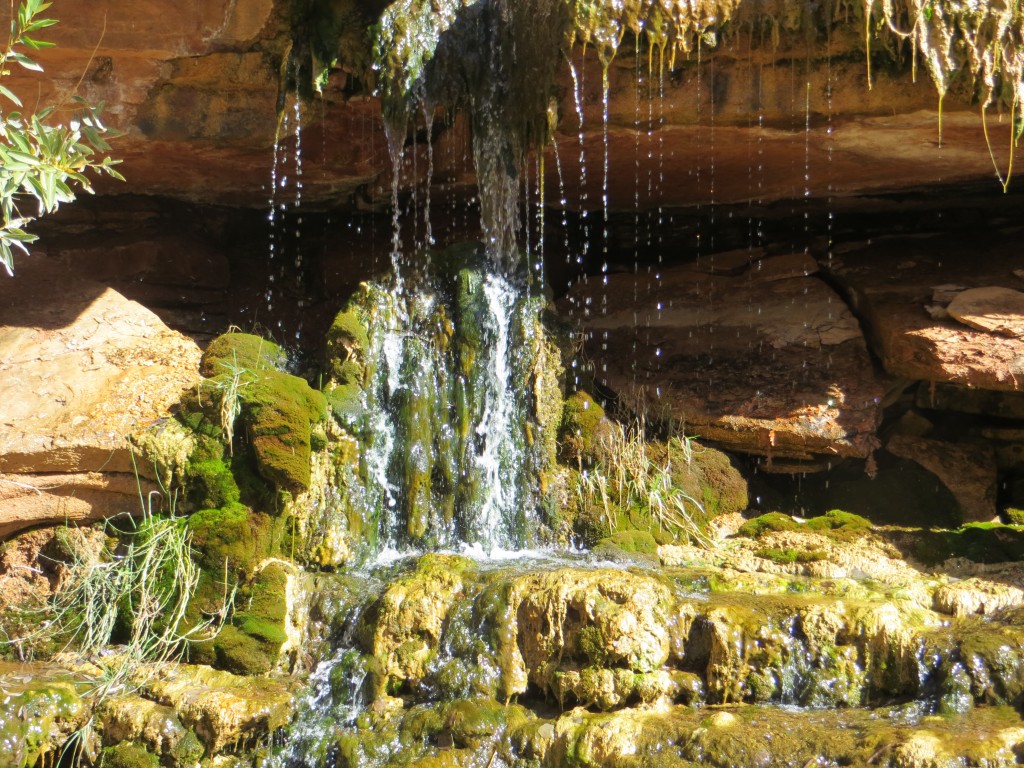 After investigating our first ledge of extended stone structures and pictographs, we stopped at a layered waterfall known as upper jump, our senses titillated by water droplets, cherished in the dry desert.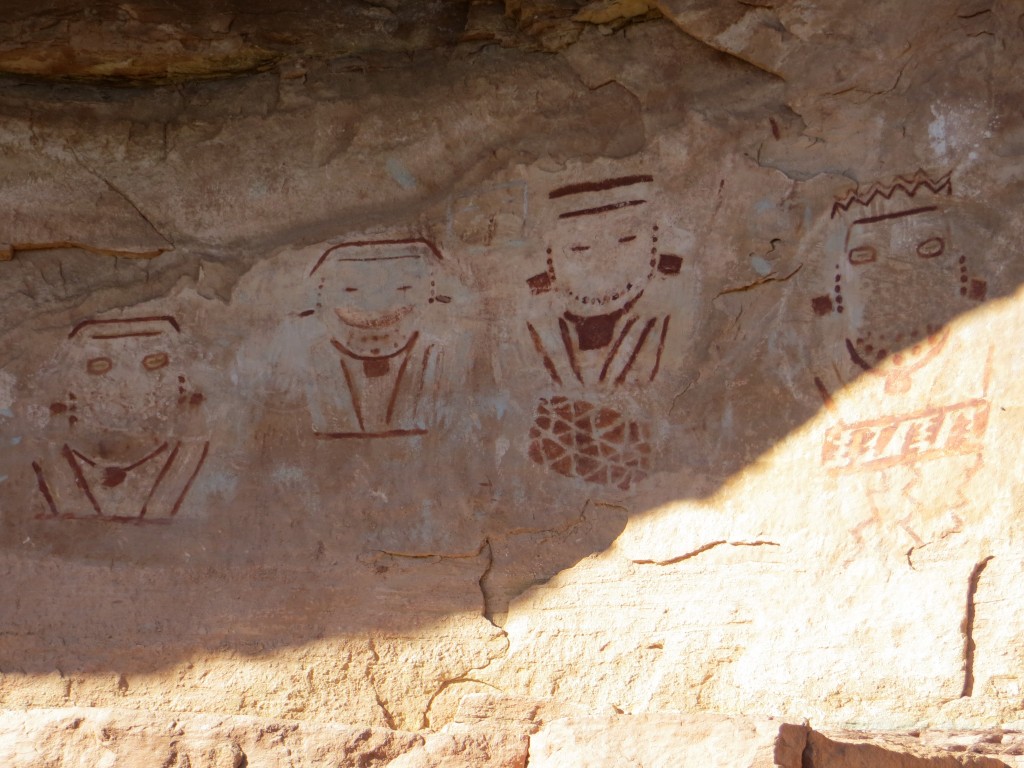 Highly decorative pictographs were among the wonders of the canyon. This panel is called Four Faces.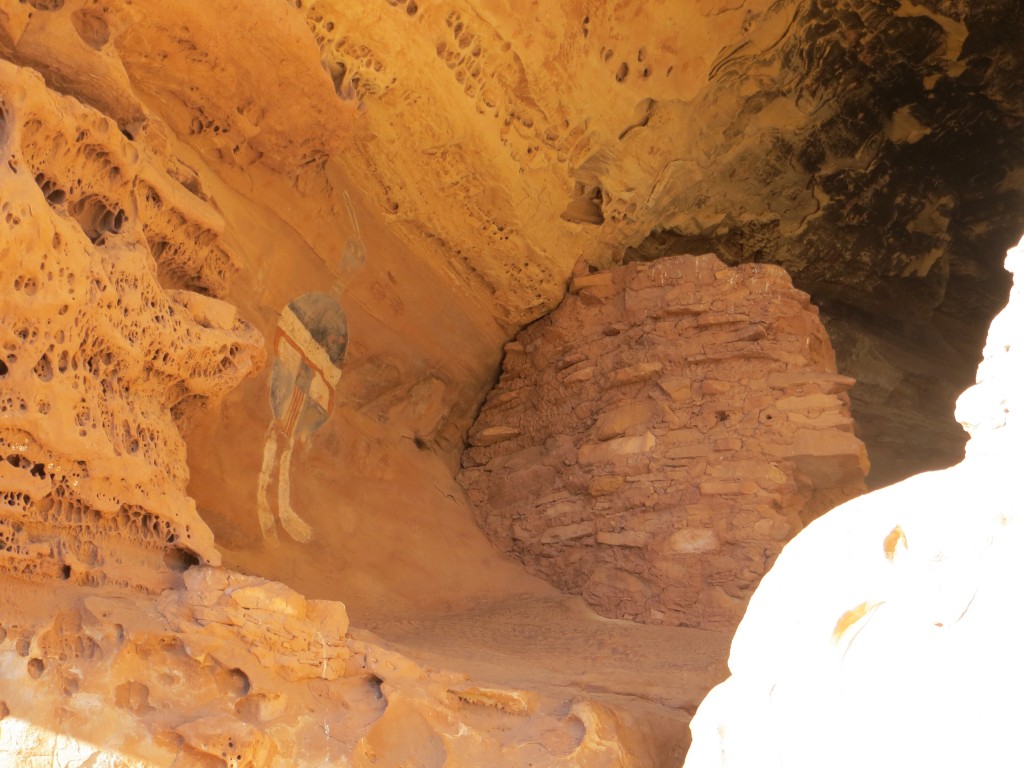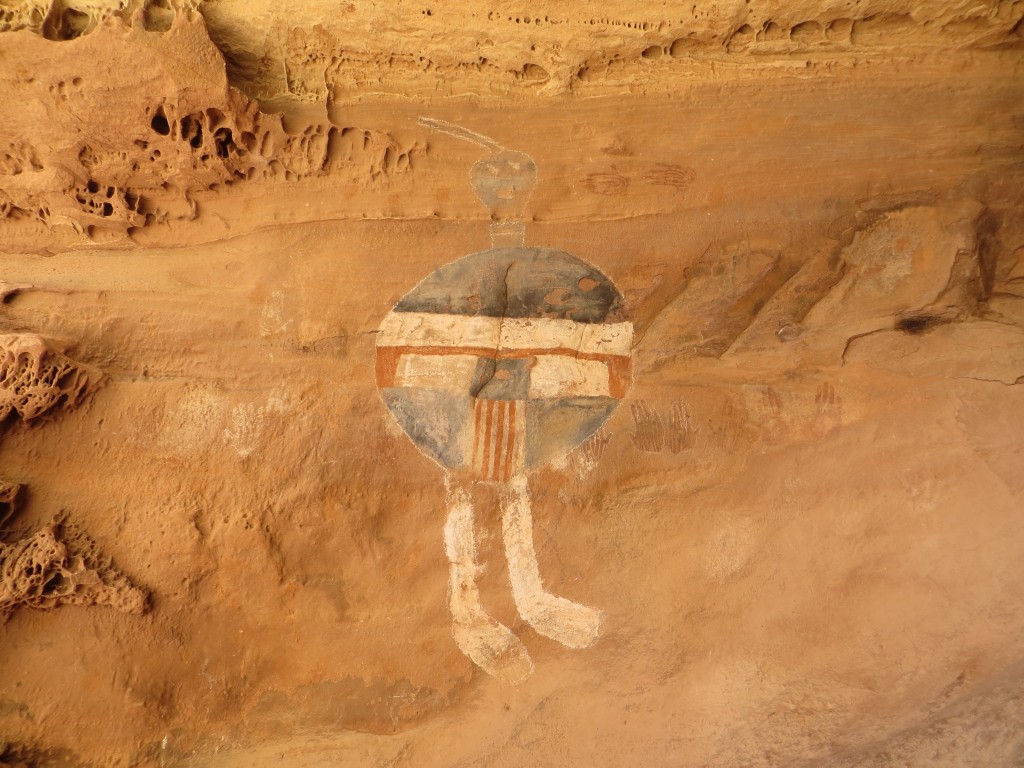 The American Man pictograph is painted on the side of a deep alcove that was perhaps once enclosed by carefully stacked stone walls.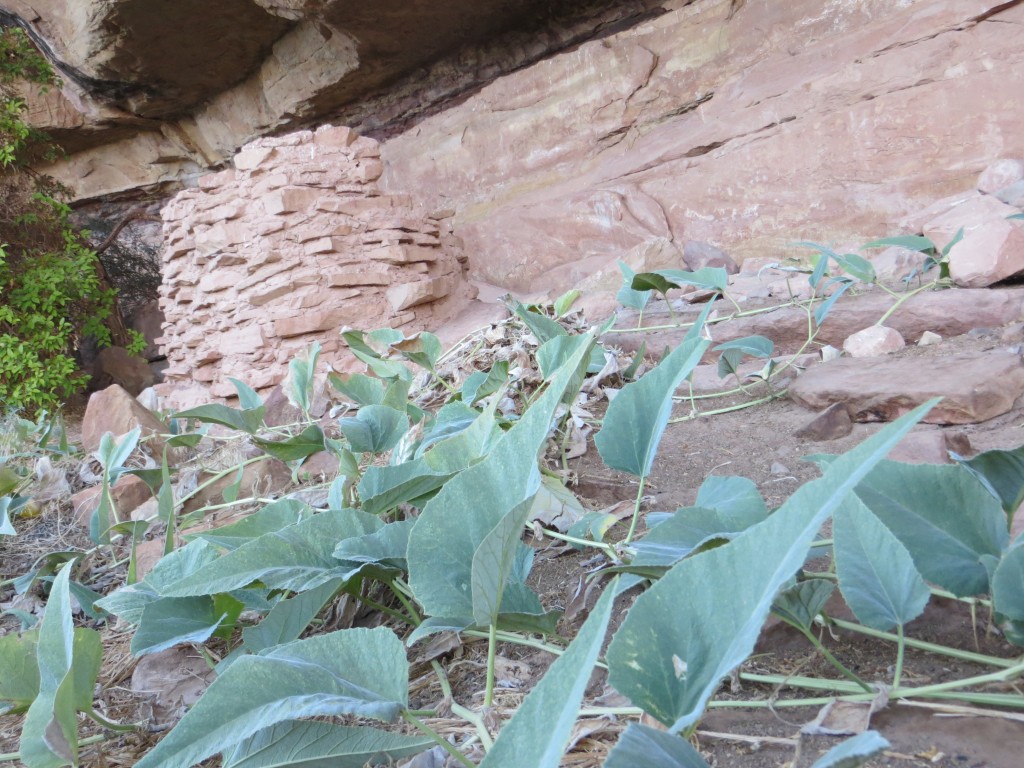 We were intrigued by several granaries in front of which grew an extensive vine that on closer inspection revealed small round squash. We read that this squash plant(or its ancestor) was originally planted and tended by past canyon dwellers over 700 years ago!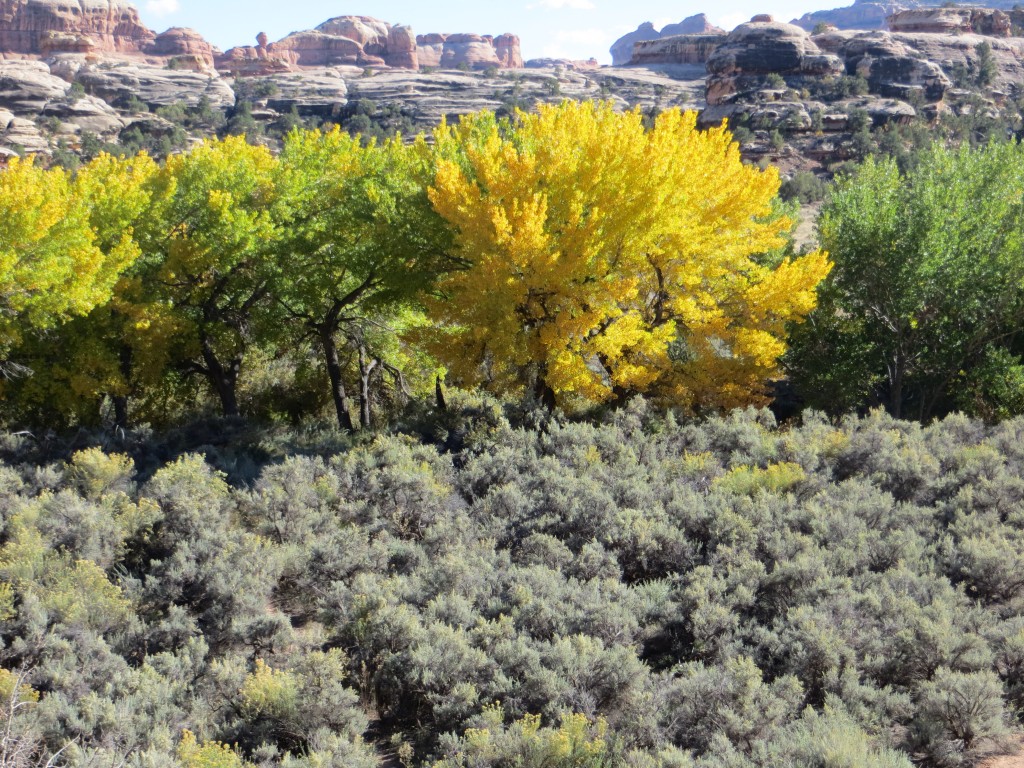 Brilliant fall colors illuminated the already prismacolor canyon. These yellow-leafed cottonwood trees grew on the creek bank and shimmered behind a field of gray sage.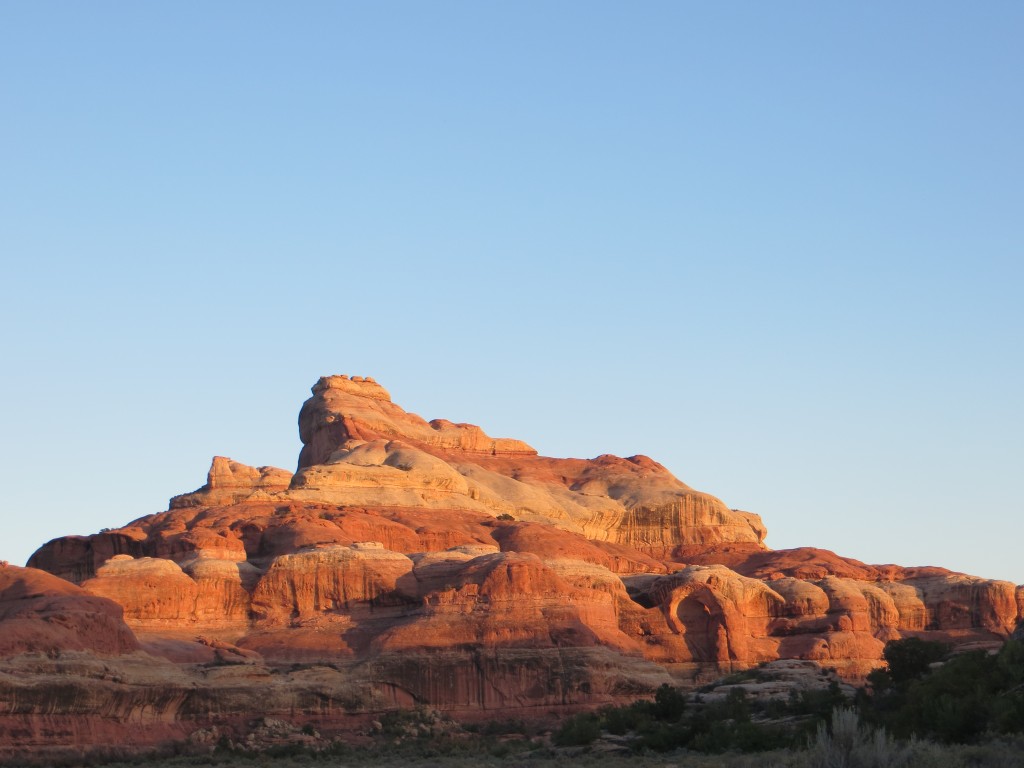 Too soon, the sun was setting and we were picking up our pace to reach our next camp under a beautiful starlit sky.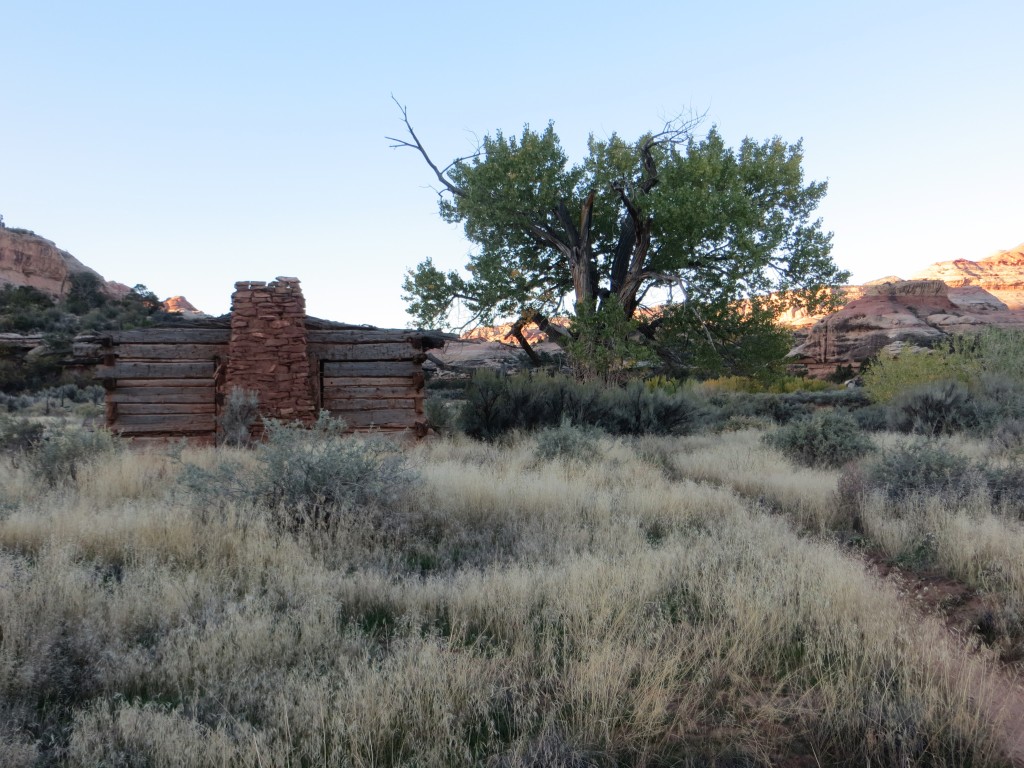 Not far from camp, in early morning light, Kirk's cabin reminded us of the area's cowboy heritage, and farming that occurred in this canyon about hundred years ago.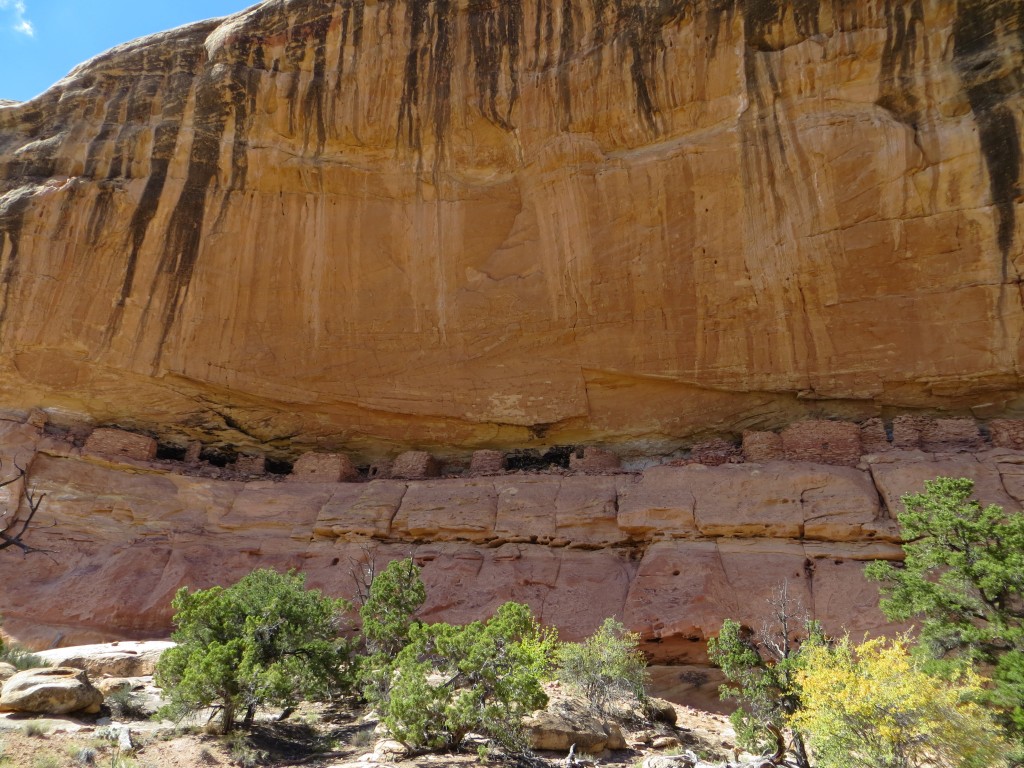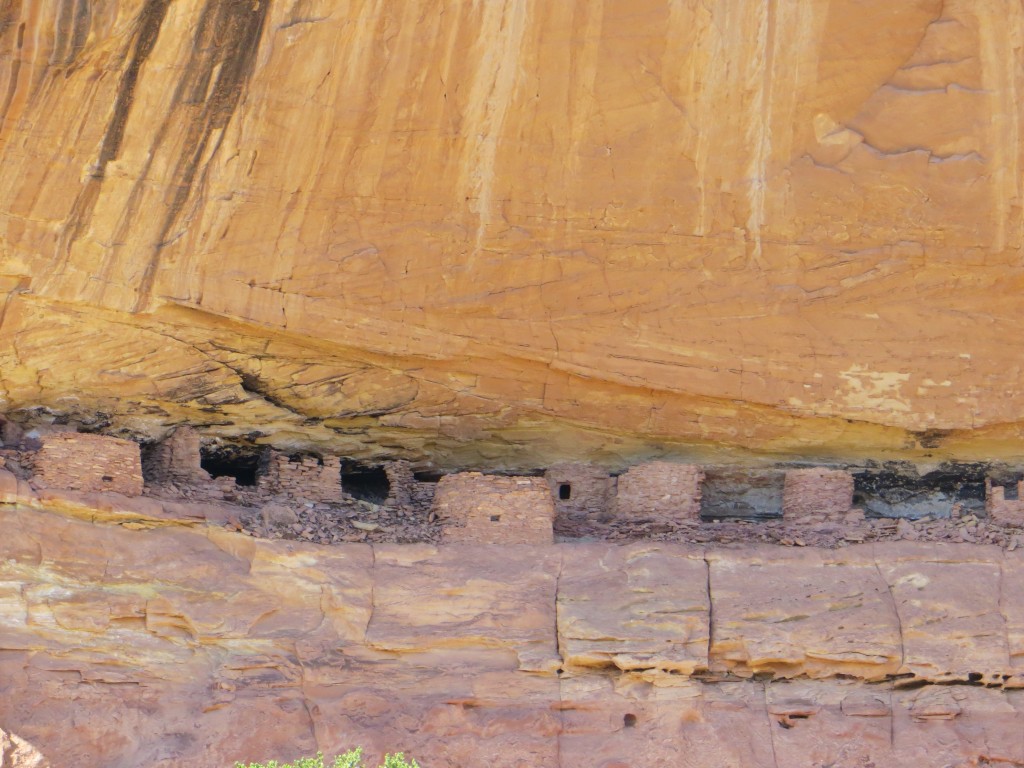 Our third and fourth days in the canyon included further wandering and exploring. We discovered side trails to ruins, of which the Big Ruin was impressive for the extent of structures in excellent condition that were located high on a ledge above a steep cliff face.
We considered the National Park Service management of this ecologically and culturally sensitive area. In our world of increasingly invasive manmade impacts, it is satisfying to be in an area where roads have become overgrown tracks, trails are narrow with spiky shrubs whipping at a hiker's calves, and willow branches meet over backpackers' heads. The desert and its delicate cryptobiotic crust are protected with spiny spiky vegetation that discourages off-trail wandering. I loved the juicy red prickly pear fruit, although the delicacy left its legacy of fine thorns lingering in my finger tips.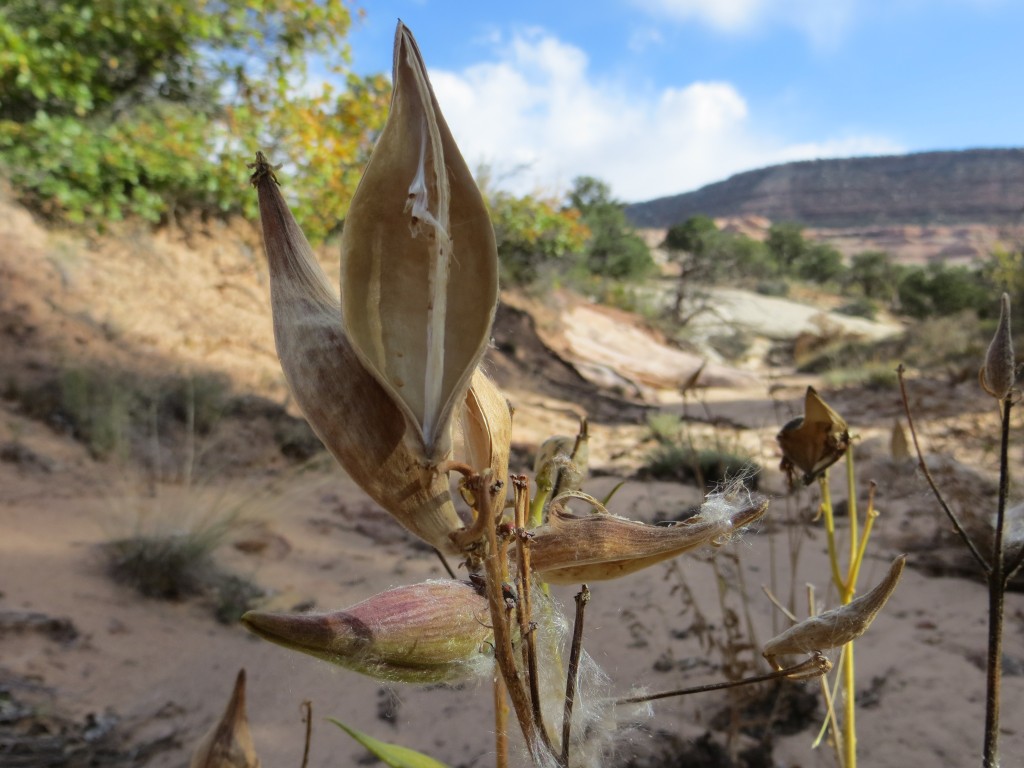 Our last night's camp was outside the Park's boundaries, beside a shrubby tributary canyon. At a micro-scale, we observed small insects crawling over dry seed pods that waved on the sandy canyon floor. From the top of a slickrock scramble, we admired larger scale views of the intricate canyon maze.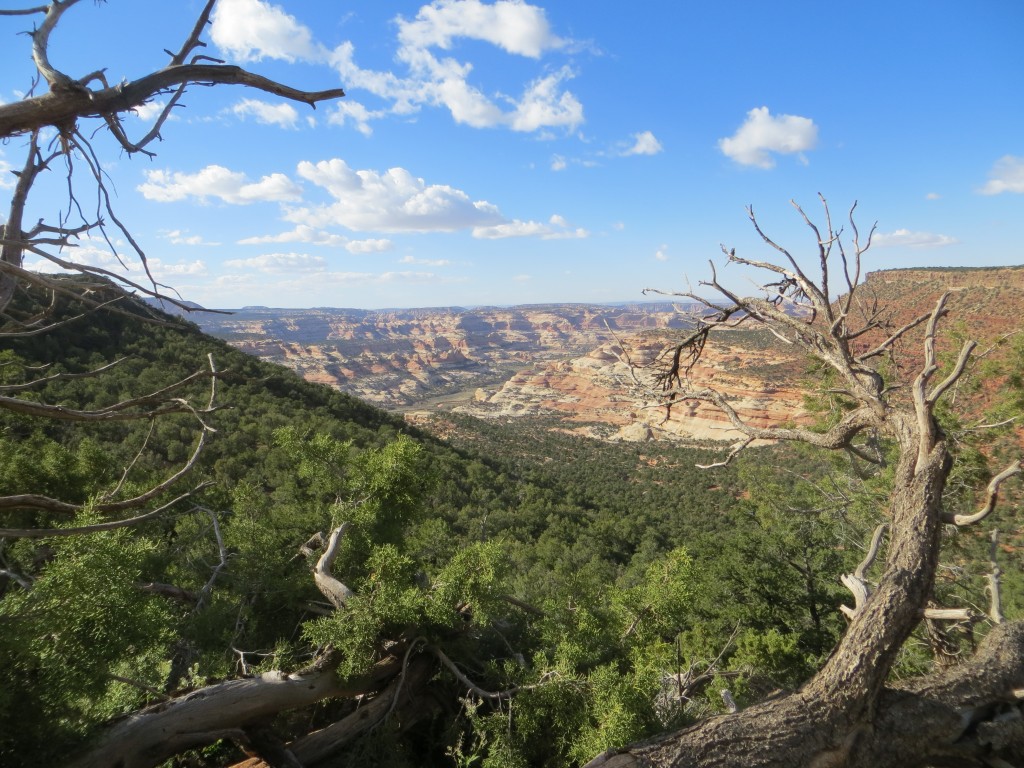 On day four, we climbed out of the canyon, circling back to the beginning of our hike. Now we saw in the expansive views, layers of meaning integrated in the twisting and turning shelves of rock below. They were filled with magical color, ancient art and vegetable plants started over 700 years ago!