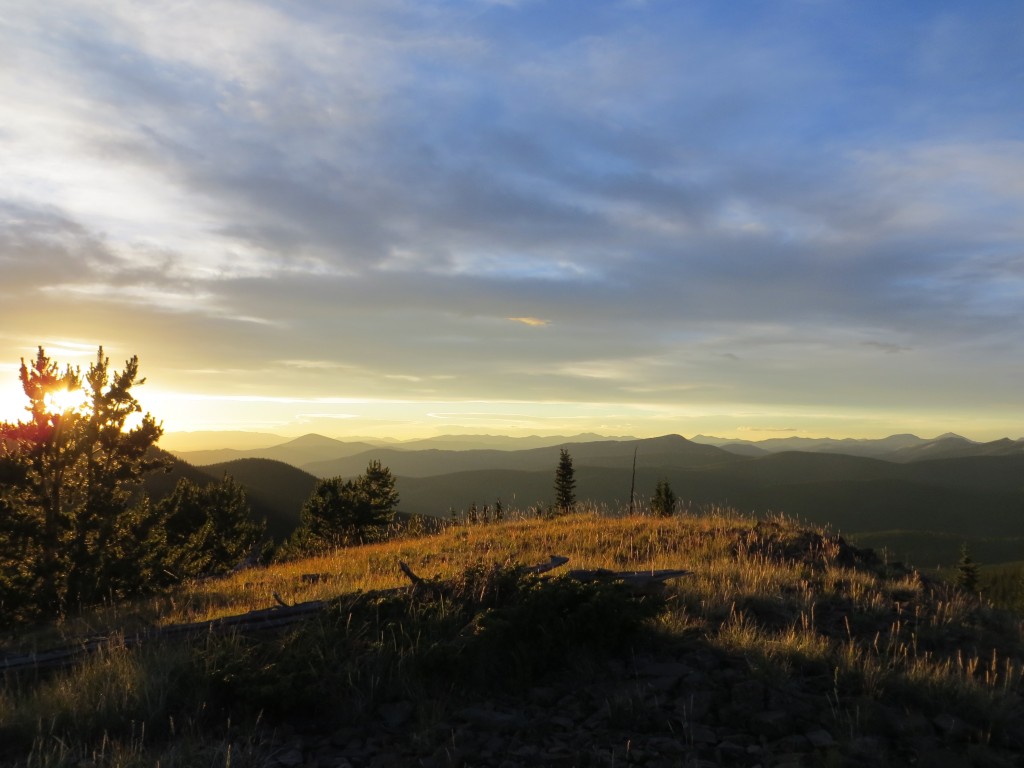 Sunset near Headwaters Hill
The backcountry often lures me to spend a night or more living by the contents of my backpack, while nature supplies the rest. This time, I was curious about spending multiple nights on the trail and experiencing "through-hiking". Would this provide another longed-for opportunity to immerse myself in wilderness or would it be different? I had a two-week window that coincided with a segment of a friend's itinerary on her through-hike of Colorado. People backpack long distance trails through the United States from Mexico to Canada, for two weeks, five months, two years, or more!
While hiking together, Susy and I were known as S-squared. We are of similar size and build and hike at close to the same pace. Although I have years of hiking and camping experience, Susy has hers refined to a science, including things like sewing her own bags, dehydrating vegetables for home-packaged dinners and measuring all her food portions! We don't care to use electronics and apps on the trail, preferring to decipher text and pore over maps.
Our start together was near Twin Lakes, at Willis Gulch trailhead on Highway 82, and our destination was Spring Creek Pass, between Creede and Lake City. Over thirteen days, approximately 175 miles and 27,000 feet elevation gain: the routine was simple, while the experience was rich.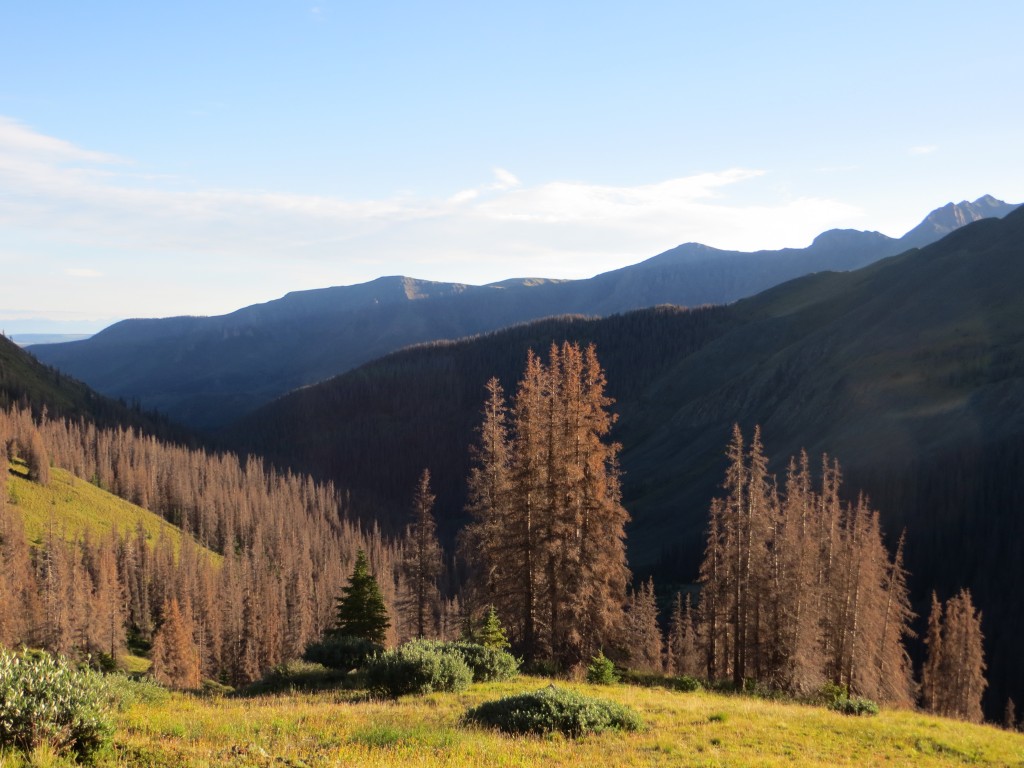 We moved through many alpine and sub-alpine ecosystems. In the La Garita Wilderness, most of the spruce trees were dead from spruce budworm, but looking closely we could see regeneration below.
I thought it would be all about the mountains, after all, we were going to be walking along the geographic spine that directs the flow of water to either the Atlantic Ocean on the east or the Pacific Ocean to the west. Overall, our direction was from north to south, however the Continental Divide wound its way in a zig-zag pattern. This provided us with extensive views of where we had been and where we were going. In one section, it seemed that Taylor Reservoir served as a center point from which the Continental Divide radiated in a three-quarter circle.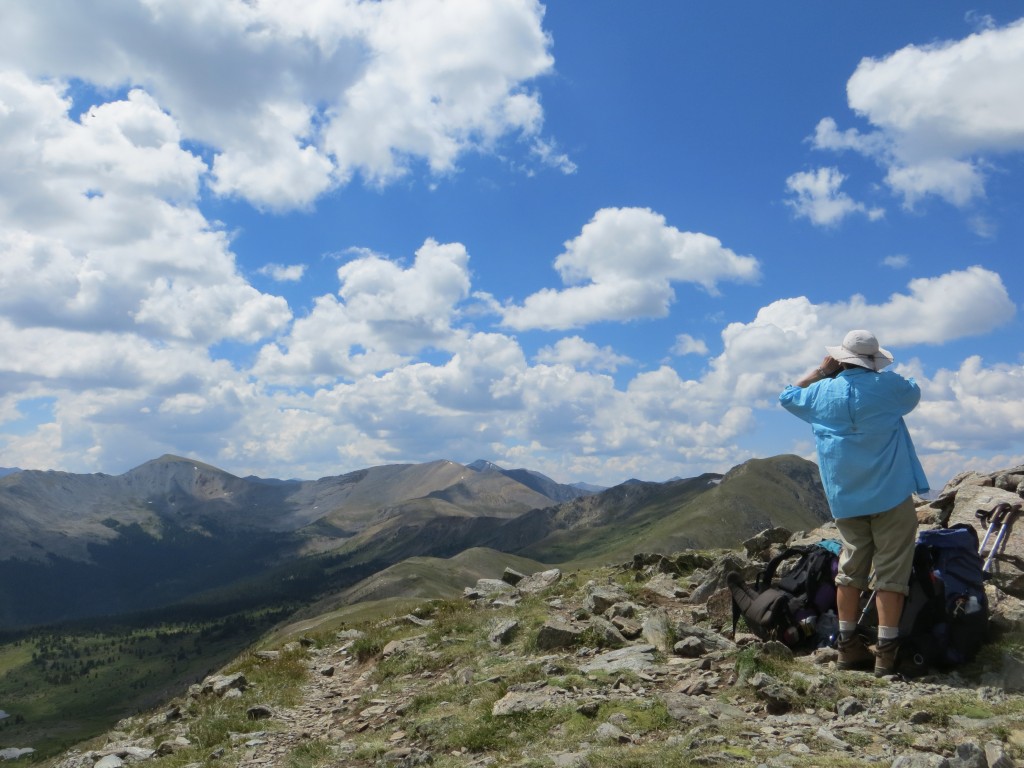 Looking at our route from a high point on the Continental Divide, just south of Cottonwood Pass
This was about more than the mountains. People, of whom we saw relatively few, became events in the day, each with their own style. There was Robbie from D.C. who retreated two miles in a lightning and rain storm and shared our shelter under a circle of spruce trees. John, retired and from Arizona, was a strong hiker whose pack was heavy with food for nine days. He joined us for an extra six miles of hiking one evening in the extensive Cochetopa Hills. A threesome on their mountain bikes crossed paths with us for two days, always with big grins and friendly greetings. There were fewer women, but we met a quiet middle-aged pair who, after several years of meeting up to hike sections, had almost completed the 470-mile Colorado trail.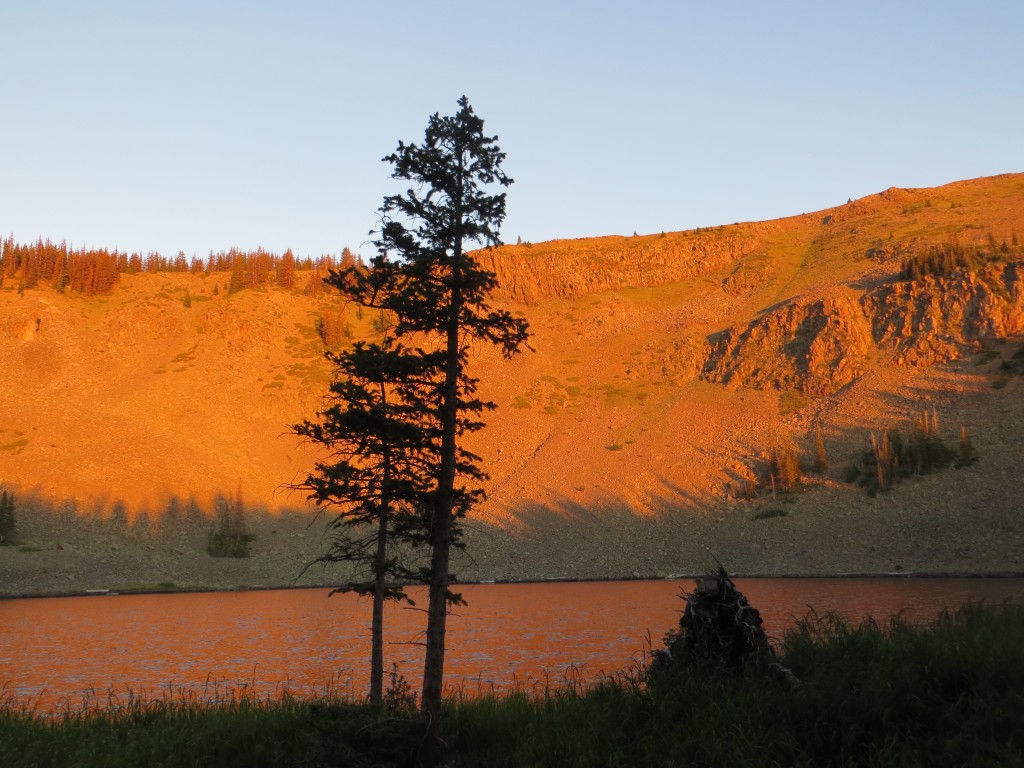 Sunrise at Baldy Lake, the only lake in many miles of trail through the Cochetopa Hills, and the place where we met the most other travelers – four groups of one to three hikers or bikers.
We saw signs of people and relics from the past. The Utes lived in these mountains, creating trade routes and leaving remnants of stone walls constructed to trap elk during hunts. Miners and Mineral Basins were aptly named for the wealth of their geology, and trails and mines from the silver mining era of the late 1800's were still evident. During that time, the Alpine Tunnel was constructed through the Continental Divide near Hancock. We traversed the Divide above the tunnel and saw both the west and east entrances, then followed the old railroad grade to Hancock.
Towns play a part in the through-hiking experience as well. After numerous days of wearing the same shirt, sweater, shorts and socks, it's great to wash everything at a laundry, take a hot shower and eat a huge carb-heavy hot meal. Susy's generous friends, Iris and Curtis, hosted us in Salida and acquainted us with the local art community. We stayed in an original house embellished with low, tin ceilings and decorative metalwork.
Back on the trail, hiking and landscape were our focus. Our route included two Wilderness Areas that were highlights: Collegiate Peaks in the beginning and La Garita at the end. Each day we started out early in the morning hoping to arrive at camp by mid-afternoon(to avoid storms), though raindrops often kept us cool as we set up our tents!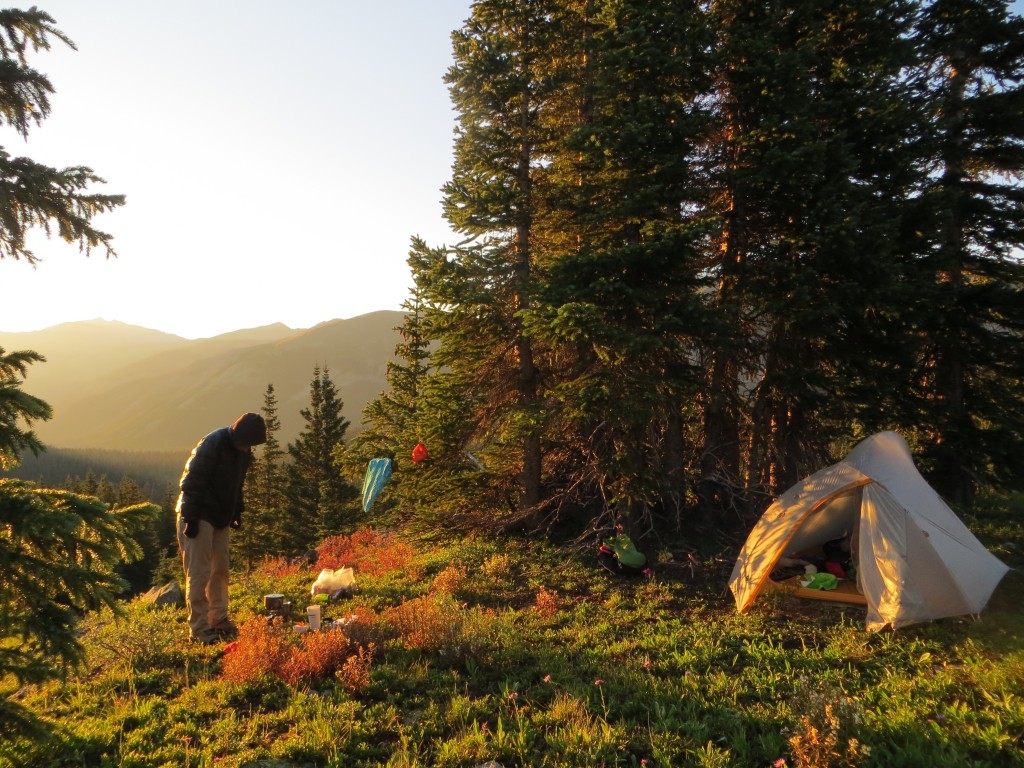 Sunrise on camp in Mineral Basin, beneath Mount Kreutzer

Blue sky days were infrequent. Instead, the sky was another dimension of the landscape: clouds built, swirled and dissipated.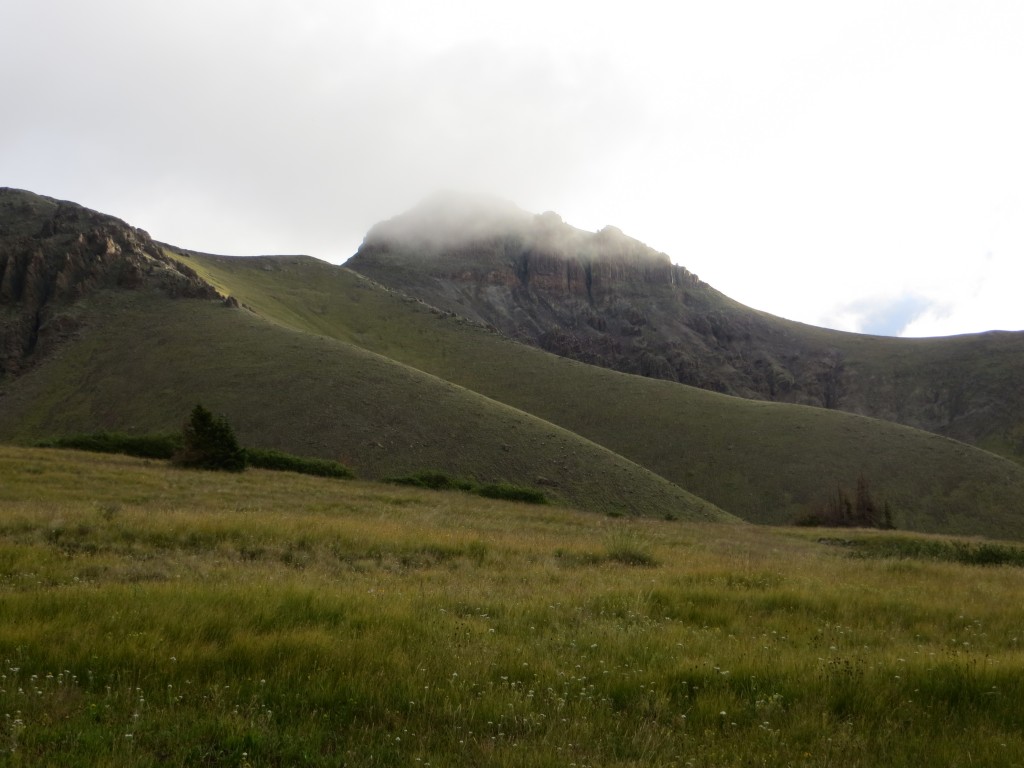 Early morning mists on the slopes of San Luis Peak

The route varied from small mountain paths, to wider trails constructed by dedicated crews and volunteers, to double tracks and even gravel roads. We walked and walked. Daily mileages were diverse, from a 19-mile longest day (due to limited water), to 14-mile average days and shorter end-of-segment days. Most days had ups and downs (elevation wise). The "flattest" day included 1,800 feet of elevation gain in the Cochetopa Hills and on "steeper" days we climbed over 4,000 feet and walked at 12,000 to 13,000 feet above sea level. Some of my favorite moments were at sunrise or sunset, simply wandering near camp. At times, I had to change gears to a more destination-oriented approach, but it was always important to me just "to be there".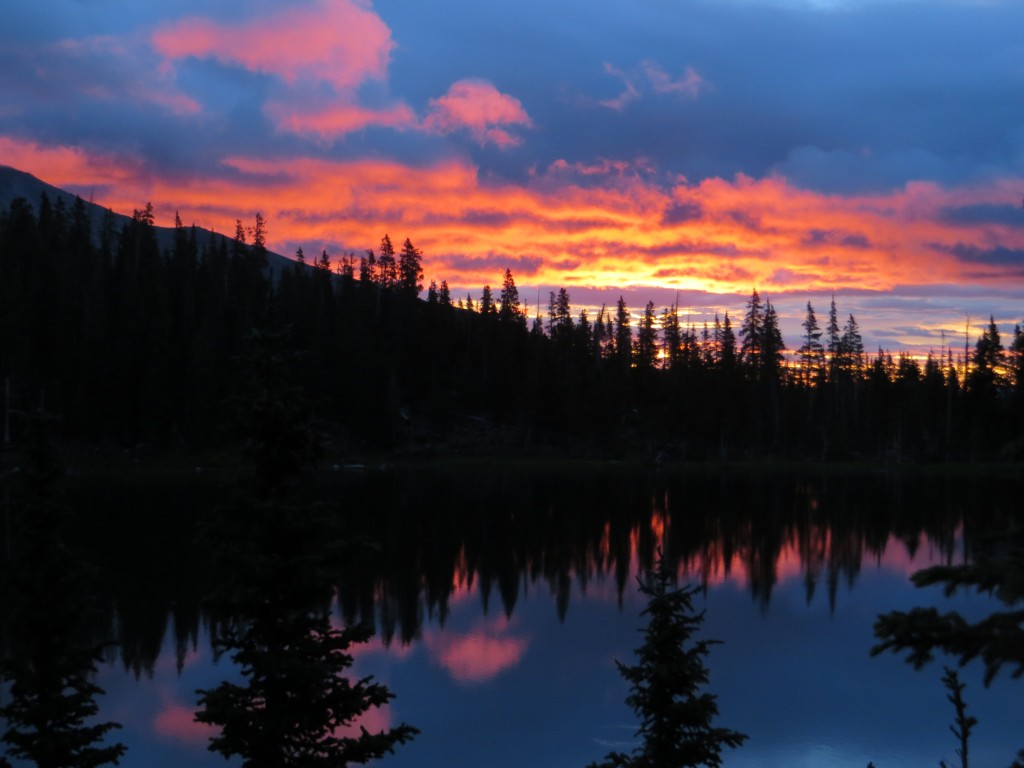 Sunrise over Hunt Lake on Day 6
The following are a few more of my favorite views: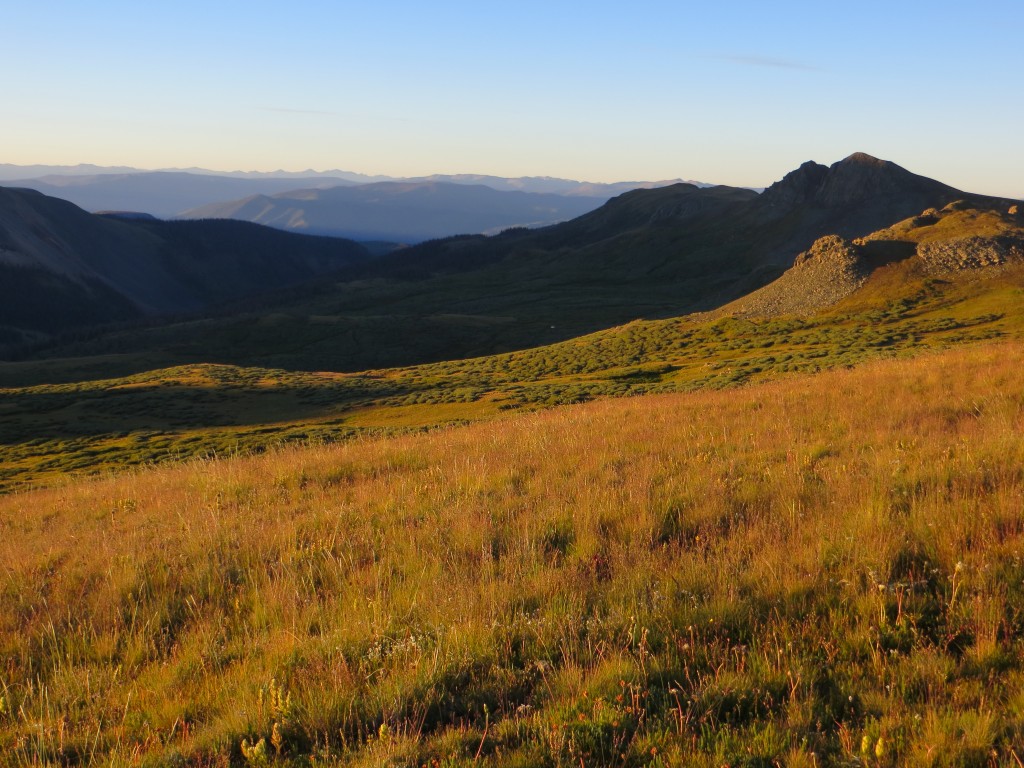 Looking east at sunrise above San Luis Pass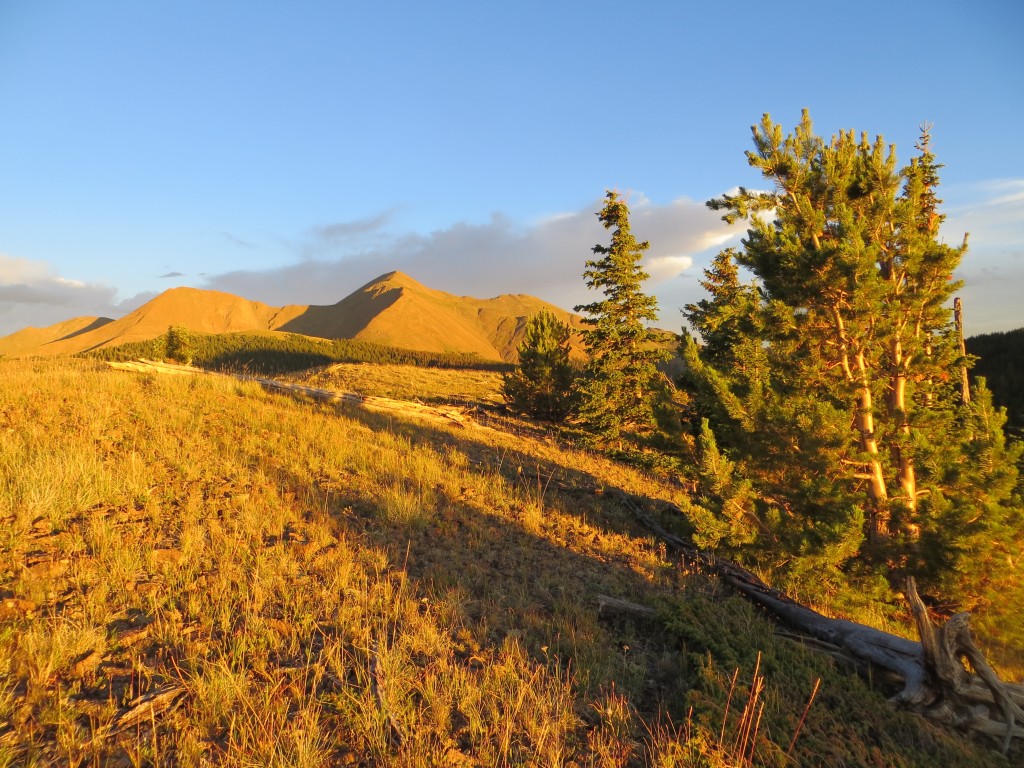 A limber pine in the foreground, Mount Antora at sunset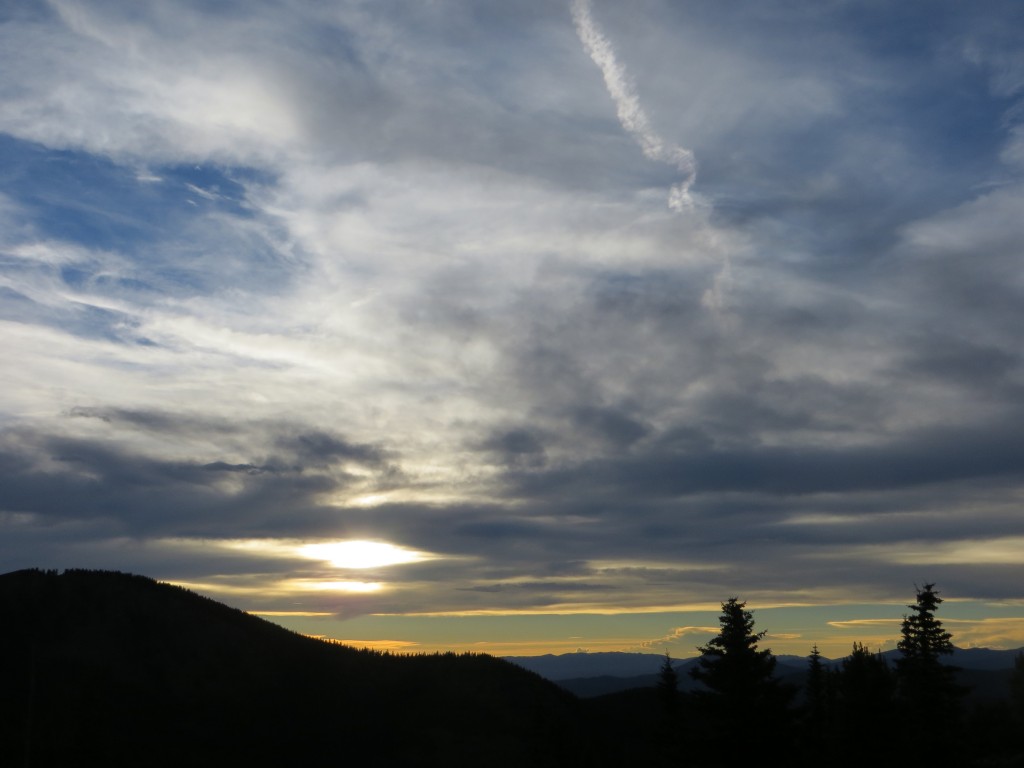 Hiking high, we felt as connected to the ever-changing sky as to the earth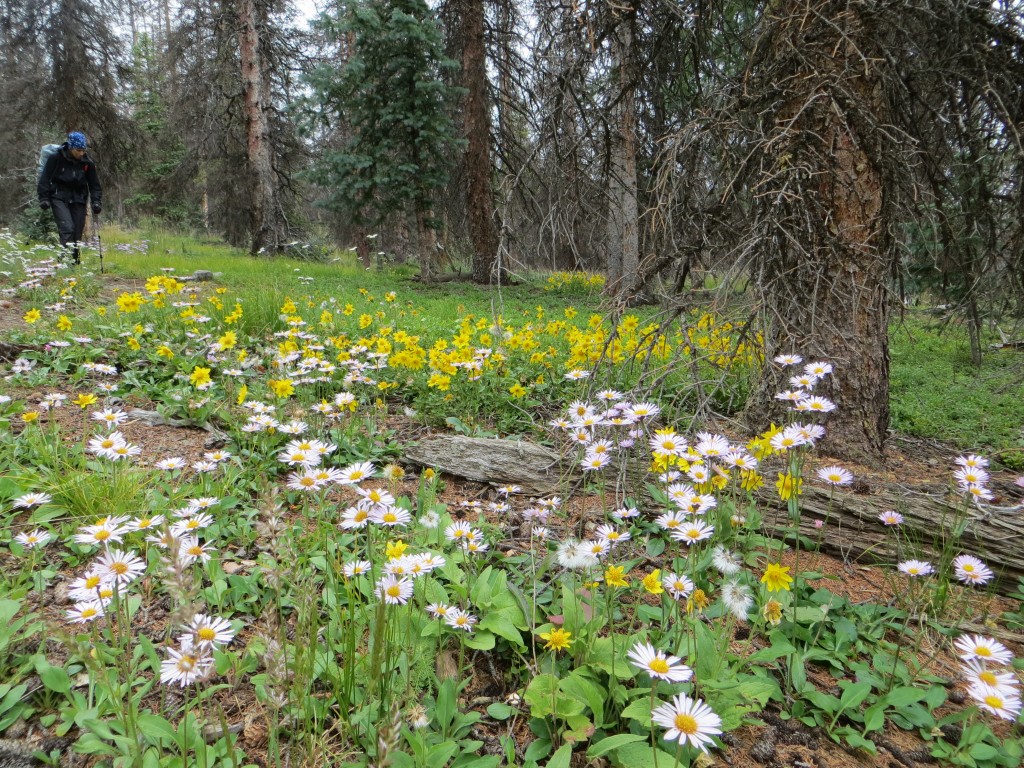 The understory beneath the sculpted dead spruce trees was vibrant with new life

Gear and food were two other important considerations for us. Both had to be light, minimal and sufficient, and were more successful with advance preparation. I found rhythm and satisfaction in the frugal trail lifestyle, for example, oats tasted delicious every morning! In addition, the forest provided puffballs to add to dinner, and juicy currants and strawberries along the way. Life on the trail was not always comfortable, but it was fully engaging and often astounding. I may be hooked as I'm already looking forward to my next trek!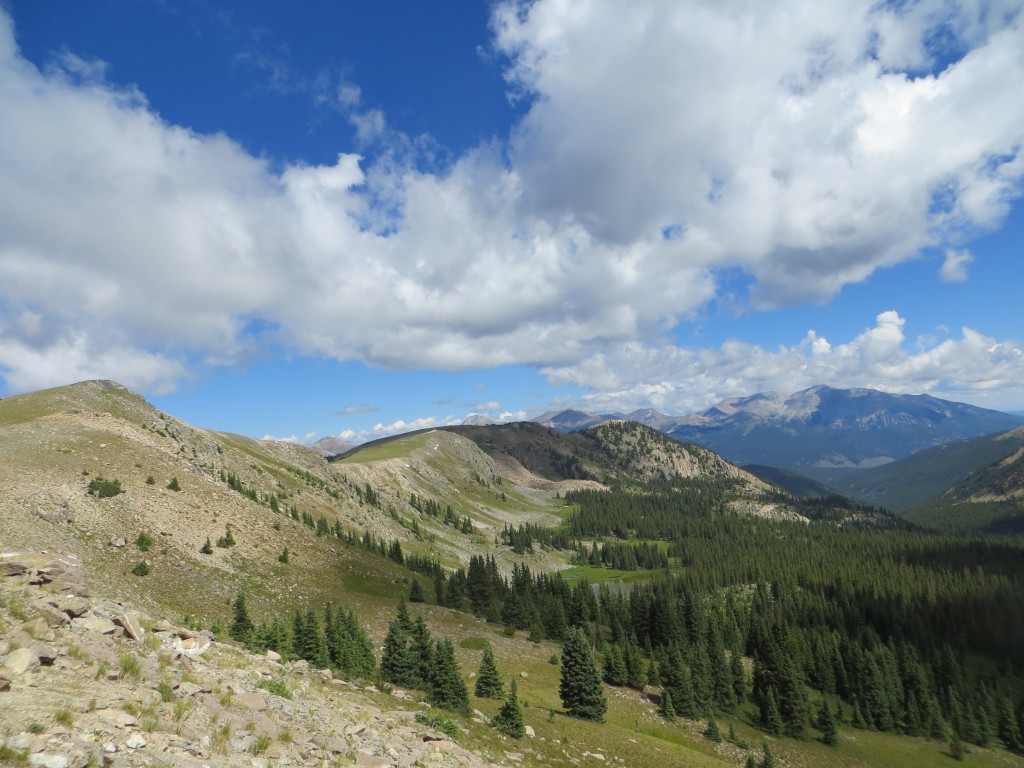 View north along the Continental Divide on the Monarch Crest Trail